Daily Reflections While #StayHome 2020
June 7- Faithfulness [Pistis]
Galatians 5: 22-26
But the fruit of the Spirit is love, joy, peace, forbearance, kindness, goodness, faithfulness [pistis], gentleness and self-control. Against such things there is no law. Those who belong to Christ Jesus have crucified the flesh with its passions and desires. Since we live by the Spirit, let us keep in step with the Spirit. Let us not become conceited, provoking and envying each other.
Faithfulness is an unwavering and complete trust with God. That means no matter the situation and whatever may be occurring in your life, you have 100% trust in God. Having faithfulness does not mean that you believe that everything will be safe or easy. It means that you trust that God is in complete control and that even when things are bad, you have confidence that God will do something good with the situation (though you may still suffer). Faith in God is not easy and is in complete opposition of our human nature of wanting to control the situation or take actions in our own hand. Of course, we are not just to sit around and do nothing and wait for God for make things to happen, there is effort that we have to put in, but we would rather put matter in our own hands rather than God's.
We are told to have the same faith that Abraham had with his Son. God told Abraham to take his son Isaac up a mountain to be sacrificed to God. Isaac was not a boy, he was a man at this point in his life, so Abraham was taking a full-grown man to be sacrificed. Just as Abraham was going to actually do this, God told him to stop and provided a ram to be sacrificed instead. When I read this passage, I understand the faith needed and that God has a plan ultimately for everything. To be honest, if I were in Abraham shoes, I would not even have brought up Isaac to the mountain. It is almost trivialized the idea of having the same faith as Abraham, but what he almost did is unthinkable. Perhaps Abraham believed that God would resurrect Isaac or that God would ultimately change something in the situation, still, he was willing to do it.
This is the pinnacle of faithfulness, a complete obedience to God. God asks you to do something and you go with it and you believe that God has complete control of the situation. We want our faith to reach this point, just like Abraham, but the truth is that we do not even have faith at times for the small things in our lives. We do not trust God in our finances or our jobs or our health or other aspects of our lives. We may not even trust God that they are in control of this pandemic. Now, where do you think your level of faithfulness is. Actually look at your life and make a list of the most important things in your life and I want to you honestly look at these items and ask yourself if you have full faith in God with these things. Be real with yourself. You may think you have faith in these items, but look back at your actions with these items and do your actions actually show that you trust God or that you trust yourself more? This is very important because it is very easy to say that you have faith but you really need to inspect your motives. Faithfulness is a fruit of the Spirit, meaning that we receive it from God as we continue to walk in the Spirit. We grow in faith, and ultimately, I hope to be at the same place that Abraham was.
My challenge for you is to take small steps in faith with the top three items of your list of most important things in your life. Each person's list is different and the small steps are different for each person as well. Find ways to give up control of something with each item and allow God to be in control. You will be surprised what God can do. Personally, in my life there have been times where money was an issue, and in those times, I would continue to tithe or even tithe a little more. In the times where I needed money most, I would instead give that money back to God as an act of faith having full trust that God will make things work out. Each time, money has come into my life in miraculous ways. Faith can be preached and taught, but it is through action and experience where we will truly grow.
-Jose Beltran
July 6- Goodness [Agathosyne]
Galatians 5: 22-26
But the fruit of the Spirit is love, joy, peace, forbearance, kindness, goodness [agathosyne], faithfulness, gentleness and self-control. Against such things there is no law. Those who belong to Christ Jesus have crucified the flesh with its passions and desires. Since we live by the Spirit, let us keep in step with the Spirit. Let us not become conceited, provoking and envying each other.
Before we begin the devotion on goodness, I must first lay out 2 other verses.
[Mark 10: 17-18] 17 As Jesus started on his way, a man ran up to him and fell on his knees before him. "Good teacher," he asked, "what must I do to inherit eternal life?"
"Why do you call me good?" Jesus answered. "No one is good—except God alone.
[Ephesians 5:8-10] For you were once darkness, but now you are light in the Lord. Live as children of light (for the fruit of the light consists in all goodness, righteousness and truth) and find out what pleases the Lord.
The definition of "good" has been at the center of morality and philosophy since the beginning of time. In today's world, people make their own definitions and justification of what is "good". From the two verses above we must first be clear that God is good and that goodness comes from God. We are all inherently sinners by nature, and it is only through the Spirit that we can achieve "goodness".
The Greek word agathosyne is defined as uprightness of heart and life. This means having an unwavering and stable posture of heart and life. I would argue that truly living means having goodness in one's life. So, what is goodness? Another argument that I would make is that goodness is the very nature of God. Goodness is mercy, righteousness, justice and much more. It is all characteristics of God that we normally think is "good" (kind of confusing now, right?).
The manner in which God treats us and the same way that Jesus treated others is the essence of goodness. Because of their goodness, both God and Jesus have healed, forgiven, brought mercy and justice, provided and sacrificed. If you have the Spirit of Goodness, then these things are inside of you too and overflow to others. So, here comes the main question for today. Do you feel compelled to treat others in the same way that God treats us? Do you even feel like you have the goodness in you and that there is something missing in your life? It is ok if you do not feel like you have that goodness. Again, with all these fruits, it is a journey and takes some work to receive the some of these fruits of the Spirit. Do not think that there is something wrong or that your relationship with God is void. It just means you may be at the beginning of this journey, or that maybe you need to get back to that journey after taking a detour.
This fruit is very easy to pass off. People may think their lives are "good" and be satisfied, but as we have seen with all these fruits, there is a much deeper meaning and experience from these fruits. Do not minimize this fruit in particular because your definition of "good" is not even close to what it really is. Pray today that you may experience that goodness and pray that God gives you the opportunities for others to experience true goodness from you. Do the research and find the verses. When God created you, he said it was good. Learn what goodness truly is and I guarantee it will alter your definitions and thoughts.
-Jose Beltran
July 5- Psalm 34
I will extol the Lord at all times;
his praise will always be on my lips.
I will glory in the Lord;
let the afflicted hear and rejoice.
Glorify the Lord with me;
let us exalt his name together.
I sought the Lord, and he answered me;
he delivered me from all my fears.
Those who look to him are radiant;
their faces are never covered with shame.
This poor man called, and the Lord heard him;
he saved him out of all his troubles.
The angel of the Lord encamps around those who fear him,
and he delivers them.
Taste and see that the Lord is good;
blessed is the one who takes refuge in him.
Fear the Lord, you his holy people,
for those who fear him lack nothing.
The lions may grow weak and hungry,
but those who seek the Lord lack no good thing.
Come, my children, listen to me;
I will teach you the fear of the Lord.
Whoever of you loves life
and desires to see many good days,
keep your tongue from evil
and your lips from telling lies.
Turn from evil and do good;
seek peace and pursue it.
The eyes of the Lord are on the righteous,
and his ears are attentive to their cry;
but the face of the Lord is against those who do evil,
to blot out their name from the earth.
The righteous cry out, and the Lord hears them;
he delivers them from all their troubles.
The Lord is close to the brokenhearted
and saves those who are crushed in spirit.
The righteous person may have many troubles,
but the Lord delivers him from them all;
he protects all his bones,
not one of them will be broken.
Evil will slay the wicked;
the foes of the righteous will be condemned.
The Lord will rescue his servants;
no one who takes refuge in him will be condemned.
July 4- Psalm 92
It is good to praise the Lord
and make music to your name, O Most High,
proclaiming your love in the morning
and your faithfulness at night,
to the music of the ten-stringed lyre
and the melody of the harp.
For you make me glad by your deeds, Lord;
I sing for joy at what your hands have done.
How great are your works, Lord,
how profound your thoughts!
Senseless people do not know,
fools do not understand,
that though the wicked spring up like grass
and all evildoers flourish,
they will be destroyed forever.
But you, Lord, are forever exalted.
For surely your enemies, Lord,
surely your enemies will perish;
all evildoers will be scattered.
You have exalted my horn[b] like that of a wild ox;
fine oils have been poured on me.
My eyes have seen the defeat of my adversaries;
my ears have heard the rout of my wicked foes.
The righteous will flourish like a palm tree,
they will grow like a cedar of Lebanon;
planted in the house of the Lord,
they will flourish in the courts of our God.
They will still bear fruit in old age,
they will stay fresh and green,
proclaiming, "The Lord is upright;
he is my Rock, and there is no wickedness in him."
July 3- Kindness [Chrestotes]
Galatians 5: 22-26
But the fruit of the Spirit is love, joy, peace, forbearance, kindness [Chrestotes], goodness, faithfulness, gentleness and self-control. Against such things there is no law. Those who belong to Christ Jesus have crucified the flesh with its passions and desires. Since we live by the Spirit, let us keep in step with the Spirit. Let us not become conceited, provoking and envying each other.
To have true chrestotes is more than just doing something nice for other people. It is a continued action or state of mind. To do something good is kind or makes you kind, but it differs from having kindness in your heart. A recurring theme with the fruits of the Spirit is that they are not temporary or fluctuate with the events of your life. If things are going well then you are more like likely to do something kind for someone else. If you like someone then you are more likely to do something kind for them as well. In the same way, if you are having a bad day, then you will be less inclined to do something kind.
If you are one with the spirit of God, then you will have kindness in you all the time and you will exude that kindness to those around you. Kindness is something that others can easily feel and see and it makes people more approachable and trustworthy. When you have the spirit of kindness, you do not do good things for others for selfish reasons, you do it because you are compelled by your heart to do it. This means even for those you do not like or those who you do not want to be kind to. Kindness shows no favor.
Imagine getting a knock on your door and when you open the door, there is a Jehovah's witness or a Mormon person or even a Muslim person. Could you be kind to them? Would you be kind to an ex-convict or a current gang member? How about that person in your life who has hurt you the most, could you be kind to them? I will be honest; I do not want to be kind to some of these people. That means I have more work to do and more growing to do. What about you? Do you believe that you truly have the fruit of chrestotes in you? Pray today that you may grow in kindness and even ask that God provide you the opportunities to practice kindness. Pray that God make it challenging though, and ask for God to provide the tough people to be kind to. True kindness is not easy and often involves sacrifice.
-Jose Beltran
July 2- Forbearance [makrothymia]
Galatians 5: 22-26
But the fruit of the Spirit is love, joy, peace, forbearance [makrothymia], kindness, goodness, faithfulness, gentleness and self-control. Against such things there is no law. Those who belong to Christ Jesus have crucified the flesh with its passions and desires. Since we live by the Spirit, let us keep in step with the Spirit. Let us not become conceited, provoking and envying each other.
Forbearance is also translated as patience here and more specifically; it is translated as long-suffering. When most people define patience, they would most likely say that patience is the willingness to be able to wait for something. For example, there is a new movie that you cannot wait to see and you have to have patience till it is released. Instead, this type of patience is about having endurance and the strength needed to be able to wait.
Paul is telling us here that the fruit of makrothymia is an increased in endurance for us. If you have this specific fruit of the spirit then you are able to wait longer and you are able to take in more suffering. You are a stronger person who is less hasty in actions, more stable and more grounded. This is a key characteristic of Jesus specifically. Jesus could have easily had angels save him or he could have basically stopped his crucifixion, but he allowed it and had the ultimate endurance and long-suffering to actually go through it. It is key for you to understand again that this patience is more than just waiting, it takes a lot more toll on you and makes you stronger.
When we pray to God and we seek answers, sometimes the answer is "not now". We may go through a period of suffering and pain before we even get the answer as well. If you are one with the Spirit of God, then you can take all these things thrown to you in life and you can continue to stand even when everything looks terrible. God provides and the strength and endurance to live strong and continue to do the work that has been called upon you. So, do you feel like you have this makrothymia? Do you feel like you are always falling under pressure or do you feel like the negative things in your life constantly bring you down? Do you need that supernatural endurance and strength to be able to push through these things? Think of this like physical exercise. You need to build up your patience by constantly doing it. Pray to God today and pray for an increase forbearance. Pray that God may give you the opportunities to grow and practice this forbearance or pray that God may show you how to begin to have this forbearance.
-Jose Beltran
July 1- Peace [Eirene]
Galatians 5: 22-26
But the fruit of the Spirit is love, joy, peace [eirene], forbearance, kindness, goodness, faithfulness, gentleness and self-control. Against such things there is no law. Those who belong to Christ Jesus have crucified the flesh with its passions and desires. Since we live by the Spirit, let us keep in step with the Spirit. Let us not become conceited, provoking and envying each other.
This definition of peace is the same definition of the Hebrew word "Shalom" which is a complete inward sense of wholeness and completeness. This is not about the absence of war or danger; it is about what is occurring inside of you. We know from the Old Testament that Jesus is the Prince of Peace and the source of peace which makes sense why it would be a fruit of the Spirit.
There are certain barriers or things in our lives that prevent us from having or achieving peace. These may be worries, anxiety, conflict, idols or fixations. The thing about peace is that we all know what we need to be removed from our lives to achieve peace. If I asked you "What are the things in your life that keep you from having peace?", I am certain that you have an answer. It might be because of your professional, emotional, financial or physical status. It may be a relationship or it can even a sin in your life. The fact is, we know what hold us back from peace and yet we choose not to give those things to God or allow those things to keep us away from peace.
Are you willing to give those things to God? Are you willing to give up control in the pursuit of peace? It is only when you give full control to God that you can truly be in the same spirit as God. Today take some time and make a list of all the things that keep you from having peace. Make a list of all your worries or anxieties and ask yourself if you can give those up to God and have the full trust that God is in control. If you can, then give those things up to God in prayer and pray for the Spirit of Peace. If you cannot, then ask yourself "why?". Ask God to give you discernment and wisdom on what you need to get to a place where you can give these things up to God and move yourself closer to peace.
-Jose Beltran
June 30- Joy [Chara]
Galatians 5: 22-26 [Chara]
But the fruit of the Spirit is love, joy [Chara], peace, forbearance, kindness, goodness, faithfulness, gentleness and self-control. Against such things there is no law. Those who belong to Christ Jesus have crucified the flesh with its passions and desires. Since we live by the Spirit, let us keep in step with the Spirit. Let us not become conceited, provoking and envying each other.
Joy is more than just being happy. It is an inner feeling of gladness. Your emotions are temporary and usually reflect your current situation. In the span of a minute, you could go through different emotions. Joy, is more consistent and does not change over. That means, if you have true joy in you, even if a terrible situation may present itself, your joy will not go away.
This a true fruit that can be attained by being in the same Spirit with God. When you are assured in your salvation and relationship with God, and when you experience the presence and love of God, it is difficult for anything to really take away your gladness in you. That confidence in who God is and what you have in store for you surpasses all feelings that you can have. For example, you may lose your job unexpectedly and the transition is difficult emotionally and financially, but you can still have joy because you know that God is in control and that when you call on God you know somehow things will work out.
Do you have that Chara in you or are you constantly swayed into different emotions based on what is going on in your life? If you do not have that stability then you need joy in your life. Since this is a fruit of the Spirit, then that means that anyone can have that joy as long as the are in the same Spirit of God. Pray today to God that you may have that joy in your life. What are the current emotions in your life that you cannot seem to shake off or you feel are more controlling of you? Pray against those feelings and instead ask God that they be replaced with that gladness inside of you. God is the source of Joy, only he can truly give that joy to you as well.
-Jose Beltran
June 29- Love [Agape]
Galatians 5: 22-26
But the fruit of the Spirit is love [Agape], joy, peace, forbearance, kindness, goodness, faithfulness, gentleness and self-control. Against such things there is no law. Those who belong to Christ Jesus have crucified the flesh with its passions and desires. Since we live by the Spirit, let us keep in step with the Spirit. Let us not become conceited, provoking and envying each other.
For the next 2 weeks we will be using this verse to talk about each fruit of the Spirit. From last week that for the audience of this time period that fruit is something that is harvested after intense and long labor. Fruit is the result of most of these people's work and it is what sustains their livelihood. In this verse Paul is saying that there is harvest that can be received from the Spirit of God. If you are one with God's Spirit and you put in the work and effort, then you will see these tangible results in your own life.
The first fruit is Love [Agape]. In the bible there are different types of love, but this love is defined as a Godly love. This love is not defined as an emotion but is instead a sacrificial love and care for others. It is unconditional just as God has unconditionally loved us. This is one of the defining characteristics of true believers of Christ. As you grow in your relationship with Christ, and as you receive Agape from God, we are compelled to give Agape to others. Agape does not expect anything in return
Are you at a place in your life in which you are giving Agape to others? Are you at a place where maybe you not feel like you are receiving Agape from God? Again, these fruits are the harvest of the relationship with God. It may not be that you need to work on or learn how to Agape others. It may be that you need to put in more work in your relationship with God to truly feel that Agape. How can you show Agape to others when you do not even know what it looks like? Pray today in your relationship with God and ask to truly feel God's Agape. Though he is already giving it to you, you may have to pray for the Spirit of discernment to see it in your life or you need to pray against the barriers that are preventing you to receive it. If you do feel and have experienced Agape form God, then pray that God may provide different ways for you to give that Agape to others.
-Jose Beltran
June 28- Psalm 29
Ascribe to the Lord, you heavenly beings,
ascribe to the Lord glory and strength.
Ascribe to the Lord the glory due his name;
worship the Lord in the splendor of his holiness.
The voice of the Lord is over the waters;
the God of glory thunders,
the Lord thunders over the mighty waters.
The voice of the Lord is powerful;
the voice of the Lord is majestic.
The voice of the Lord breaks the cedars;
the Lord breaks in pieces the cedars of Lebanon.
He makes Lebanon leap like a calf,
Sirion like a young wild ox.
The voice of the Lord strikes
with flashes of lightning.
The voice of the Lord shakes the desert;
the Lord shakes the Desert of Kadesh.
The voice of the Lord twists the oaks
and strips the forests bare.
And in his temple all cry, "Glory!"
The Lord sits enthroned over the flood;
the Lord is enthroned as King forever.
The Lord gives strength to his people;
the Lord blesses his people with peace.
June 27- Psalm 89: 1-18
I will sing of the Lord's great love forever;
with my mouth I will make your faithfulness known
through all generations.
I will declare that your love stands firm forever,
that you have established your faithfulness in heaven itself.
You said, "I have made a covenant with my chosen one,
I have sworn to David my servant,
'I will establish your line forever
and make your throne firm through all generations.'"
The heavens praise your wonders, Lord,
your faithfulness too, in the assembly of the holy ones.
For who in the skies above can compare with the Lord?
Who is like the Lord among the heavenly beings?
In the council of the holy ones God is greatly feared;
he is more awesome than all who surround him.
Who is like you, Lord God Almighty?
You, Lord, are mighty, and your faithfulness surrounds you.
You rule over the surging sea;
when its waves mount up, you still them.
You crushed Rahab like one of the slain;
with your strong arm you scattered your enemies.
The heavens are yours, and yours also the earth;
you founded the world and all that is in it.
You created the north and the south;
Tabor and Hermon sing for joy at your name.
Your arm is endowed with power;
your hand is strong, your right hand exalted.
Righteousness and justice are the foundation of your throne;
love and faithfulness go before you.
Blessed are those who have learned to acclaim you,
who walk in the light of your presence, Lord.
They rejoice in your name all day long;
they celebrate your righteousness.
For you are their glory and strength,
and by your favor you exalt our horn.
Indeed, our shield belongs to the Lord,
our king to the Holy One of Israel.
June 26- Fruits from God [Karpos]
Philippians 1: 9-11
And this is my prayer: that your love may abound more and more in knowledge and depth of insight, so that you may be able to discern what is best and may be pure and blameless for the day of Christ, filled with the fruit [Karpos] of righteousness that comes through Jesus Christ—to the glory and praise of God.
It is important to understand with verses in the bible who the intended readers were and who the audience is. A lot of the parables and language used in the New Testament are agrarian or farming related because that is the profession and livelihood of most of the people during that time. We read those verses with a different lense and understanding. This verse is an example of understanding the audience as it adds more severity to the meaning of this verse.
Due to advancement in technology and farming, fruit is easily accessible to us. When we read the word karpos in the bible, we have an understanding that fruit must be grown and then harvested. We can go to the store and get any fruit that we want in all different forms and shapes. We personally are not harvesting this fruit, so if the fruit is not in season or is not growing, then we have other options.
Let us look back at the people in this time and see the difference. For these people, fruit harvesting was their livelihood. They had to put in the manual work to ensure a harvest. That harvest ensured their financial stability and sustained their life. When they read this verse, and they saw the word karpos, it meant everything to them. Imagine instead of the word fruit, that the bible said "filled with the paycheck of righteousness that comes through Jesus Christ".
The fruit that comes from Jesus Christ is harvested from your work and effort. This is not to say that you need to work to gain forgiveness from God or get into Heaven. There is a real reward that is given to people when they are one and righteous with God. We will see next week what the rewards are. For the people during this time, they would know this means full-time work, labor and time with God to reap the harvest of the fruit. You need to elevate your own understanding of what fruit from God is as well. God is asking us to make our livelihood to be righteous with God to see the fruit in our own lives. Today I ask you to grab some fruit that you hopefully have and place it in a place that you will see a lot today. Let that fruit remind you today to be in constant prayer. Pray today that you may know and understand what it means to be one with God to harvest the fruits of righteousness.
--Jose Beltran
June 25- Your Neighbor [Plesion]
Galatians 5: 13-15
13 You, my brothers and sisters, were called to be free. But do not use your freedom to indulge the flesh; rather, serve one another humbly in love. 14 For the entire law is fulfilled in keeping this one command: "Love your neighbor [Plesion] as yourself." 15 If you bite and devour each other, watch out or you will be destroyed by each other.
In the New Testament, there is a moment where an expert in the law asks Jesus what he needs to do to get into Heaven. The answer is to love God with all your heart, mind and soul and to love your neighbor as yourself. Then he asks Jesus who is his neighbor, to which Jesus responds with the parable of the Good Sammaritan (Luke 10: 25-37). Jesus uses the Greek word plesion here and in other verses as well. This word goes beyond a friend or someone who lives near you, this definition is any other person regardless of religion or nation they are from. Jesus is saying that our neighbor is every other person in this world.
It seems simple but is also very difficult. It is easy to say that we will love all people, but how is your relationship with people in the Jehovah's Witness faith? What about with Muslims or Sikhs? What about that person who has hurt you most in your life? The truth is that we have certain sets of people in our minds that we make the exception of loving as we love ourselves. What are the prejudices that you may have towards certain people? Who are the people that you just cannot seem to let go and truly love? We are not perfect as humans and we all have our own faults. The first step to loving your neighbor is to be cognitive of who we are not loving. Take time today to reflect upon your life, your experiences and your potential biases. Who are the people or groups of people that you know you need to learn to love? Pray that God may reveal these people to you and pray that gain the knowledge and understanding of how you can Love your plesion.
--Jose Beltran
June 24– Mercies [Oiktirmos]
Romans 12:1-2
I appeal to you therefore, brothers, by the mercies [oiktirmos] of God, to present your bodies as a living sacrifice, holy and acceptable to God, which is your spiritual worship. Do not be conformed to this world, but be transformed by the renewal of your mind, that by testing you may discern what is the will of God, what is good and acceptable and perfect.
This definition of mercies is the pity, compassion and forgiveness of God. Here Paul is urging as to be holy and present ourselves as holy because he has chosen to have mercy on us. God does not owe us anything and there is no true reason for God really to show us mercy. We are beings controlled by sins and easily manipulated by sin. We are constantly turning ourselves away from God and choosing sin over God. Yet, God chooses to have pity and compassion and allow us still to be drawn closer to him.
This is not a transaction described in this verse. God does not give us mercy for our holiness in return. God freely gives us his mercies and Paul is saying that we should want to present ourselves as Holy. In psychology, this concept is reciprocity. As God shows mercy on us, we as humans want to return his good actions with our own good actions. If you are truly affected, appreciative and understand what God has done, then you will be urged in your heart and spirit to want to be Holy for God. The key to this verse though is that Paul says that this holiness and what we present to God is worship to God.
There are different forms of worship, and sometimes we fixated or believe that one type is the only way to worship. Sometimes we worry about what we do as worship, and here Paul is saying that we should also worry about who we are as worship. Your body and the way you maintain it is worship. In the old testament, there are many examples of sacrifices made of living animals to God. God in return, sacrificed his living Son for the forgiveness of our sins. Presenting yourself as Holy to God is a presentation of a sacrifice to God. We are offering up our bodies and choosing to "kill" our own bodies and to fully give ourselves to God. Being Holy is not just doing the right things, it is about giving your full self to God. So, the question today is, are you being transformed by the mercies of God? Do you have the urge and want to present yourself Holy to God? What can you do to push yourself towards that relationship?
--Jose Beltran
June 23 – Nothing Works Without Prayer
Ephesians 6:18
And pray in the Spirit on all occasions with all kinds of prayers and requests. With this in mind, be alert and always keep on praying for all the Lord's people.
In the last week of devotionals, we looked at the armor of God, which the apostle Paul describes in the letter to the Ephesians. After taking every part of a Roman soldier's battle armor and comparing it to a spiritual reality and protection with have in Jesus, the apostle Paul finishes with the above verse. It begins: And… In other words, put on the whole armor of God AND PRAY. This is the NIV translation, and it is a very good translation for this verse. On all occasions comes from the Greek en panti kairo, which literally means at each and every time or season. With all kinds of prayer is a very good translation of the Greek dia pases proseuches. The Holy Spirit instructs us that for God's protective armor to work, we must ask God for direction in each and every occasion. And there are varieties of prayer available and necessary depending on the situation. We are also told to be alert - a soldier who's asleep will be overcome easily even with all his armor on.
Nothing in God's Kingdom works without prayer. It is our responsibility to learn how to pray. Prayer is more than asking God for help. It is listening to Him for direction – what to say, which job to take, how to deal with a difficult relationship. And His direction comes as we walk in our life step by step. He knows the future, but we don't. We walk our lives moment by moment, and to be prepared for our future, we must ask Him for direction in each and every occasion. And we must study His Word to understand His ways. Then God's armor will do its job, and we will be perfectly protected against the enemy.
--Vessie Kazachka
(Greek definitions and explanations from Rick Renner's devotional book "Sparkling Gems from the Greek")
June 22 – The Word of God as a Sword
Ephesians 6:17
Take the helmet of salvation and the sword of the Spirit, which is the word of God.
Of all the weapons in the Ephesians passage about the armor of God, only one is an offensive weapon – the sword. So far we looked at armor that protected us and prepared us. The last weapon is a weapon of attack. It is the Word of God.
The Greek word for sword is the word machaira. The Roman soldier had several swords – some were big and heavy, used for training or for fighting while keeping a distance from the enemy. The machaira, however, was a short sword similar to a large dagger that had sharp edges on both sides and was used in close combat. Some had a cork-screw tip that would shred the flesh of the enemy when twisted. It was a deadly weapon in the hands of a trained Roman soldier.
The apostle Paul tells us that when the devil gets too close to us, we have a deadly weapon at our disposal to fight him off. That weapon is the rhema of God. There are two words for word in the Greek. Logos means something said, a topic, a reasoning. It is used to refer to Jesus in the beginning of the gospel of John. Rhema, however, which is used in this verse, means utterance. When Jesus spoke to the disciples about the coming Holy Spirit, He told them the Spirit will remind them of what Jesus had said and will speak to them only what He hears from the Father. When we face the enemy, when we face a difficult situation right in front of our face, it is the Spirit of God in our hearts that utters words from Jesus, brings to our remembrance what we have learned about God from our Bible, and gives us the specific answer from God we need to overcome this particular situation we are in.
Let's not underestimate the power of the word of God in our hearts. We must be open to listen always and do everything we hear from the Lord. It will get us out of any difficulty we could possibly face.
--Vessie Kazachka
June 21 – Helmet of Salvation
Ephesians 6:17
Take the helmet of salvation and the sword of the Spirit, which is the word of God.
Happy Father's Day!
Let's continue with the Bible passage in Ephesians known as the armor of God. The apostle Paul compares the physical armor of a Roman soldier with the spiritual realities and protections we have in Jesus. After the shield of faith, he talks about the helmet of salvation. The Greek word for helmet is the word perkephalaia, which means a piece of armor that fits tightly around the head.
The Roman helmet was made of bronze and could not be broken by an axe or a sword, which were the enemy weapons used against the Roman soldiers. It had a soft padding on the inside for good fit and comfort, and it had elaborate etchings for decoration on the outside. Sometimes the whole helmet could look like an animal – a horse or an elephant. The top of the helmet was decorated with long colorful plumes or horse hair – it looked like a work of art, it was meant to be noticeable and was also worn in parades.
The word salvation is the Greek word soterion, which literally means defense. It comes from the word soteria, which simply means safety, rescue. When we say we are saved in Christ, what are we saved from? We are not only saved in the future from a lake of fire, but we are given a defense against all evil schemes of the devil, and the devil isn't in heaven; he is here on earth.
It is up to us to understand everything included in our salvation, to know how God protects us, and to wear it for all to see. We must not shy away from the salvation of Christ; it is our most valuable possession, it is a work of art paid for by the blood, the very life, of Jesus.
--Vessie Kazachka
June 20 – The Shield of Faith
Ephesians 6:16
Above all, taking the shield of faith, wherewith you shall be able to quench all the fiery darts of the wicked.
We are looking at the passage in the letter to the Ephesians, where Paul speaks about the spirituals weapons of a Christian and compares them to the armor of a Roman soldier. As Christians, we believe that there is a devil, the enemy of God who fight Him and all of us who believe in Him for control over humanity and this world. In verse 16, Paul compares faith to the Roman shield. The word shield in the Greek is the word thureos, which literally means an oblong door that was wide and long. The shield had the shape of a good-sized door and when help in front covered the whole soldier. It was made of multiple, usually six, layers of thick leather woven together extremely tightly. It was so strong, that arrows could not penetrate it. However, over time the shield could become brittle and brake. So the soldiers had a daily duty to maintain their shields. They carried a small vial of oil, and every day they would saturate a piece of cloth in oil and rub it slowly and consistently over the leather to keep it supple.
This is an excellent picture of our faith. Faith in God is a spiritual force that is strong enough to protect from every attack the devil throws at us. But we have the responsibility to keep it in good shape. Our oil is the Holy Spirit, it is His anointing and words from God that He puts in our heart that energize our faith. If we don't know if and how God is leading us, we cannot have faith to overcome. If we don't commune with the Holy Spirit in prayer, we cannot get the direction of God.
Determine today to keep your shield of faith fully saturated with oil, ready for battle. Pray and know God's direction for your life. And when circumstances fight you, hold your shield of faith, being confident that God will work His good promises in your life.
--Vessie Kazachka
June 19 - The Gospel of Peace
Ephesians 6:15
And your feet shod with the preparation of the gospel of peace;
Continuing with the same passage from the letter to the Ephesians we looked at last few days, the apostle Paul next mentions the shoes of the Roman soldier. They were leather sandals that wrapped around the feet and fastened with ties. Their soles had short spikes, similar to modern day alpinist shoes. They pierced the ground and created a sure footing for the soldiers, whose marches were often very long. In addition they created firm footing in battle and could be used as a weapon as well, because they could pierce flesh.
The word preparation in the above verse is the Greek word
hetoimasia, which also translates as foundation, firm footing, and readiness. Different bible translations bring out two distinct connotation. The first is that we must always be ready and prepared to share the gospel of peace. The other implies that the peace of the gospel is a sure-footed way of life that makes is ready. I would also add that as we share the gospel, practice peace, and support those who do, it puts our life on a firm foundation where it's hard for us to slip and lose control.
Examine your life today - are you ready to share the gospel when someone asks you? Do you dare talk about the peace you have in Jesus with someone who needs peace? How do you support ministries who preach the gospel? Ask the Holy Spirit to reveal to you your part of sharing the gospel to the lost world. Be ready to obey Him and trust Him that your life will have a firm foundation of peace.
—Vessie Kazachka
June 18 - The Protection of Being Right With God
Ephesians 6:14
... and having on the breastplate if righteousness;
Yesterday I mentioned that in this passage of the letter the the Ephesians, the apostle Paul is comparing the armor of a Roman soldier with the spiritual weapons available to us as Christian believers. After the foundation of truth as the belt on which all armor hangs, he tells us about the breastplate of righteousness. The breastplate of a Roman soldier covered his shoulders and the front and back of his torso, shielding all vital body organs.
The Greek work for righteousness is dikaiosuné, which means right and innocent. What does that mean for us?
We Adam sinned, he broke God's law of life and was judged guilty and lost his eternal life. He passed from the kingdom of light to the kingdom of darkness, and all the consequences of sin - sickness, disease, turmoil, and death - entered into humanity's existence. Jesus satisfied the demands of justice on the cross and now whoever believes in Him receives innocence from Adam's trespass on eternal life. If a person is guilty of a crime, he goes to prison or pays penalties. The spiritual equivalent of prison and penalties are sickness, misery and death brought on by the enemy of God - the devil. But if we believe in Jesus, His suffering on the cross counts for our innocence of breaking the law of life and therefore any penalties for us are illegal. The breastplate of righteousness is our right and ability to go to God as the judge of the universe in the high court of heaven and demand any sickness, turmoil, mental oppression or lack to cease in our life - they come from the enemy and are illegal in the life on a Christian - one who is made right with God by Jesus on the cross.
Ask the Holy Spirit for revelation of this truth today and stand your ground. Everything vital to your life is protected from the wiles of the devil.
—Vessie Kazachka
June 17 – Our First Spiritual Weapon
Ephesians 6:14
Stand therefore, having your loins girt about with truth…
Some days ago, we talked about the wiles of the devil – his tactics that try to deceive us and then control us and harm us. Today we will look at the weapons we have to fight his deception.
In chapter 6 of the letter to the Ephesian church, Paul talks about our spiritual weapons, but what he was actually describing was the armor worn by a Roman soldier. He took the picture of a Roman soldier, known to everyone in those days, and one by one took the properties of the different weapons and compared them to the spiritual realities we live in.
A Roman soldier wore a loinbelt. It was securely strapped around his torso, and it supported his armor. His sword hung on it, his shield attached to it when not in use or marching, his breastplate was held by the belt in several places, the pouch with arrows hung on the back side of the belt. If the belt wasn't properly secured and in place, none of the other armor would function.
The Holy Spirit says truth to us is like this loinbelt. Truth in the Greek is aletheuo, which translates to be true in doctrine and profession, to speak the truth. If the devil's weapon is deception, our first counter weapon is truth – first the Bible as the most true description of reality, and also us always speaking the truth – professing it in our daily words and actions.
The Bible is called the word of truth. Our God is known as the God who cannot lie. Jesus is the way, the truth and the life. Let us be people of truth – study the Word to know the truth and to practice it in our lives. If we love the truth, we will be difficult to deceive.
--Vessie Kazachka
(Greek definitions and explanations from Rick Renner's devotional book "Sparkling Gems from the Greek")
June 16 – We Are Not Orphans
John 14:18
I will not leave you comfortless: I will come to you.
I love how much the Bible keeps reinforcing the fact that God will never leave us nor forsake us, that He is with us always to deliver us and get us through any difficulties we face in life.
In the above verse, the word comfortless comes from the Greek word orphanos, which is where we get our word orphan. In New Testament times this word meant exactly what it means today – a child who is abandoned due to death or desertion of a father or mother. In addition, that word had a second meaning – a student who was abandoned by their teacher. Education was important in Greek culture, and many wealthy young people were placed in schools to follow and learn from a famous teacher. In Hebrew culture there were also important rabbinical schools, were young people followed and learned from an established rabbi.
We are not orphans! We are not deserted, abandoned or discarded. When Jesus left the earth, He sent the Holy Spirit. And He told us: But when the Spirit of truth comes, He will guide you into all truth. For He will not speak on His own authority. But He will speak whatever He hears, and He will tell you things that are to come. He will glorify Me, for He will receive from Me and will declare it to you. All that the Father has is Mine. Therefore, I said that He will take what is Mine and will declare it to you. (John 16:12-15)
Take Jesus's words literally. Pray to the Father about all that happens in your life and expect the Holy Spirit to speak to you wisdom, solutions, future events. If you're not sure about the voice of the Spirit, Jesus tells us how to discern – He will always glorify Jesus and the preaching of the gospel. We are not alone; we are not orphans. We have all the support necessary to overcome our difficulties so that the gospel is preached in our community.
--Vessie Kazachka
(Greek definitions and explanations from Rick Renner's devotional book "Sparkling Gems from the Greek")
June 15 - Profession of your faith [Homologia]
Hebrews 10: 19-26
Therefore, brothers and sisters, since we have confidence to enter the Most Holy Place by the blood of Jesus, by a new and living way opened for us through the curtain, that is, his body, and since we have a great priest over the house of God, let us draw near to God with a sincere heart and with the full assurance that faith brings, having our hearts sprinkled to cleanse us from a guilty conscience and having our bodies washed with pure water. Let us hold unswervingly to the hope we profess [homologia], for he who promised is faithful.
Homologia is a combination of two words. Homo which means same and logos which means words in Greek. This does not mean to simply repeat or spew the words as someone else. Homologia is being in agreement with the words and being in the same accord. Again, simply stating something does not mean you are professing. You must be in agreement with it and truly believe it.
This distinction is very important because it is possible to have the words you speak have no real meaning. God does not want you to just tell people words that you have read in the Bible or you may have heard from sermons. He wants you to tell people what you are in agreement with. He wants you to profess to people what you truly believe.
So, the question is, what are you repeating to others and what are you professing to others? Are you in agreement and believe what you are telling people? What areas in your faith do you need to be in agreement with God? Think about the things that you want to profess to people, but that you can't. Either because you do not believe, or because you are not in total agreement with. What do you need to be able to get to a place where you can truly profess to people? Take some time today to meditate and pray to God. If you need more faith, then pray for it. If you need more knowledge, then pray for it. If you need to speak to someone, then find someone with knowledge and experience that you trust. God can reveal through people, revelation, the word, prayer and many other ways what you may be lacking. It is a journey to get to a place where you can profess to others, so do not give up.
--Jose Beltran
June 14 - Rejoice [Chairo] in the Lord Always!
Philippians 4: 4-5
Rejoice in the Lord always. I will say it again: Rejoice! Let your gentleness be evident to all. The Lord is near.
It seems like there is just so much going wrong in this world and in this country. It is important for us to understand what is going on in this world and to sit in the dissonance of the pain of this present reality. That does not mean that there are not good things happening in the world or in our lives.
Even during all the negatives in our lives, where can we rejoice and even have gratitude for what God is doing? Even the small things in life go a long way. Maybe you finally found something at the store that you have not been able to get for months. Maybe you have reconnected or have been dawn closer to people. Maybe you have finally gotten the rest that you have needed. There is always something to rejoice with the Lord!
Can you Chairo today in the Lord! Try to continuously throughout the day have gladness and gratitude for the great things God is doing in your life and the lives of others. Try even making a journal or a list of all the things you are gracious for and rejoice for. If you need some motivation, then you can listen to this worship song from Israel Houghton, it will definitely help.
https://www.youtube.com/watch?v=LYvFrH8zSiI
--Jose Beltran
June 13- The Devil's schemes [Methodeia]
Ephesians 6:10-11
Finally, be strong in the Lord and in his mighty power. Put on the full armor of God, so that you can take your stand against the Devil's schemes [Methodeia].
What does this word mean? It is the cunning arts: craftiness, deceit, trickery. There is a very present and real danger out there in this world and it is the enemy. You may have heard the phrase: "The biggest trick the Devil ever played is convincing people that he does not exist".
We must keep our guard up and understand that there are spirits and principalities that we cannot see, but they are dangers that we can pray against. For example, there are places or institutions that have a spirit of racism or greed that may be forcing people to do certain actions. You can pray against those spirits and break any bondages on people. The enemy will not be upfront with their trickery, it is not as simple as causing you pain or killing people. The goal of the Devil is to get you away from your relationship with God.
The Devil is far more successful by putting an idol in front of us that distracts us from God, than bringing actual pain to us. This is where the trickery and cunningness lie in their Methodeia; it does not seem like it is from the enemy. Take a serious look into your life and truly mediate and think about the idols or things in your life that distract you from God. There will be things that come up in your mind that you may pass off, take those things seriously. For example, you may downplay the distraction that social media is in your life, but it may be deeper than that. Take this seriously and keep your guard up. The second you let it down, or pass something off, the enemy has already succeeded in their schemes. Put on the full of armor of guard and be in constant prayer. You can pray against the enemy! The power of Jesus is far more powerful. Be ready to stand against the methodeia of the enemy.
--Jose Beltran
June 12 – Let God Breathe Into Your Life
2 Timothy 3:16
All scripture is given by inspiration [theopneustos] of God, and is profitable for doctrine, for reproof, for correction, for instruction in righteousness, that the man of God may be complete, thoroughly equipped for every good work.
Two days ago, we read God's prescription for living in difficult times – scripture, the words collected in the Bible about God, about us, and about the reality of the world around us. How can these words, written many years ago, help us today? One of the keys is the Greek word for inspiration, which comes from theopneustos.This is a compound word. Theos is the Greek for God. Pneustos comes from the Greek word pneuma, which comes from the root pneu.
Pneu communicates the idea of the dynamic movement of air. It also means to breath, to emit a fragrance, or the projection of emotions. When pneu forms the word pneuma, it carries a more profound meaning of life, force, energy, dynamism. In the Jewis language this word mean the powerful creative force of God which continues to sustain creation.
Theopneustos then carries the meaning of God-breathed. When God created Adam, He breathed into him His life and made him a living spirit. This same force was breathed into the words we have collected in the Bible. This real force is still contained in those words; it isn't something that departs or evaporates.
When you read your Bible daily, accept this life-sustaining power into you. Ask the Lord to teach you His doctrine, correction and instruction, and His power will begin working in you.
--Vessie Kazachka
(Greek definitions and explanations from Rick Renner's devotional book "Sparkling Gems from the Greek")
June 11 – Do the Word with All Your Ability
James 1:22
But be ye doers of the word, and not hearers only, deceiving your own selves.
Yesterday we looked at the Apostle Paul's instructions to Timothy concerning the way to live in dangerous times. They concluded with the power of God's Word (who is Jesus) to instruct us in every situation. In another passage about the power and purpose of the Word of God, James writes that we are to be doers of the word, not hearers only. The word doer comes from the Greek word poietes, meaning a poet. The same root word is used in Ephesians 2:10, when the apostle Paul writes "For we are His workmanship [poiema], created in Christ Jesus unto good works." It expresses God's creative power in its fullest and greatest used that created us a masterpiece of art as new spirit beings.
When James tells us to be poietes of the word, he tells us to use all our creative power, ability and heart to apply the Word of God in our lives, so that we can produce results worthy of a masterpiece. If we only hear a sermon on Sunday without it producing a change in our lives, we deceive ourselves. We must sculpt the words of Jesus into our character, our thoughts, our emotions, our understanding and our actions for it to have effect in our lives.
Ask the Holy Spirit today to teach you how to be a doer of the Word.
--Vessie Kazachka
(Greek definitions and explanations from Rick Renner's devotional book "Sparkling Gems from the Greek")
June 10 – How to Live in Perilous Times
2 Timothy 3:1
This also know, that in the last days perilous times shall come.
When God speaks to us of the future, He doesn't say it to scare us, but to warn us so we can be prepared and avoid danger and bad consequences. If you believe the Bible, you believe that Jesus is coming back a second time, and whether you think this is in your lifetime or way in the future, the time of His return is getting closer.
In this Bible letter, the Holy Spirit through the apostle Paul is warning the church about the future. The Greek word for know comes from ginosko, which means knowledge. It is used in the present imperative tense, which makes it a strong command that we must know, must recognize, must acknowledge. The word last in the last days is from the Greek word eschatos, which means the ultimate end of a thing, a place furthest away, or something that is final.
The word perilous is the Greek word chalepos. It means ugly words that, when spoken, are hurtful and emotionally hard to bear. It also describes wild, vicious, uncontrollable animals that are unpredictable and dangerous.
In other words, Jesus warns the church that difficult times will come – unpredictable, dangerous and harsh, and difficult words will be spoken – hurtful and hard to hear. We must not be surprised by those things. However, the rest of that chapter gives us the instructions on how Paul was delivered from all persecution, and to handle those times – ending with verse 16:
All Scripture is inspired by God and is profitable for teaching, for reproof, for correction, and for instruction in righteousness, that the man of God may be complete, thoroughly equipped for every good work.
--Vessie Kazachka
(Greek definitions and explanations from Rick Renner's devotional book "Sparkling Gems from the Greek")
June 9 - Are Christ's Words at Home in You?
Colossian 3:16
Let the word of Christ dwell [enoikeo] in you richly...
As Christians, we come to know our God by His words and His Spirit. As we read the Bible, the many stories and experiences of God and His people interacting over many thousands of years, the Holy Spirit reveals (opens the curtain) to us the character of God. In Jesus' final days with His disciples, in the gospel of John chapters 14 and 15, He emphasizes the importance of His words: If you love me, keep my commandments. (John 14:15).
In the letter to the Colossians, the apostle Paul says it this way: Let the word of Christ dwell [enoikeo] in you richly. The word enoikeo comes from en meaning in, and oikos meaning a house. In the Greek language of the day, it was used to describe someone who takes permanent residency in a home. It denotes being at home - being welcomed and comfortable in your residence.
Does the word of God feel welcomed in us? Do we consider Jesus's sayings when we make decisions or when we are overwhelmed by an emotion? Let's determine to make space in our hearts for His commandments. Only then shall we abide in the Father's love for us, as Jesus says: If ye keep my commandments, ye shall abide in my love; even as I have kept my Father's commandments, and abide in his love. (John 15:10)
--Vessie Kazachka
June 8- Humility [tapeinophrosynē]
2 Phillipians 2: 1-4
Therefore, if you have any encouragement from being united with Christ, if any comfort from his love, if any common sharing in the Spirit, if any tenderness and compassion, then make my joy complete by being like-minded, having the same love, being one in spirit and of one mind. Do nothing out of selfish ambition or vain conceit. Rather, in humility [tapeinophrosynē] value others above yourselves, not looking to your own interests but each of you to the interests of the others.
That's a long Greek word, right? This definition specifically is having a mind of humility or lowliness. This type of humility is having a low sense and opinion of oneself (in a good way) which causes us to have a dependence on the Lord and not ourselves. The Apostle Paul is asking us to have the same spirit and tapeinophrosynē as Jesus. Jesus put himself below all others and put himself in the mindset of having full dependence on God for everything. Nothing was done through Jesus without the guidance of God.
Paul is also asking us to put ourselves so low in our own minds, that everyone else in this world is above us. Is that simple? Nope. It is easier for us to put the needs of family and friends above our own, but could you do that for a stranger or someone you do not know that well in church? The good thing is that Paul is not asking that we have to do everything for others, he's asking us to value and see others as better than ourselves. Now that we can do.
When we humble ourselves in the same way Jesus did, we are more receptive and willing to help others in need. We are more willing to make more sacrifices for others and make an effort to help them. Paul is asking for all of us to have the same mind and spirit of humility. We must help and guide one another to humble ourselves so that our whole congregation is humble. What would it look like for our entire church to put ourselves below all others? We will bring impact and change to Skid Row, Little Tokyo and Downtown L.A. Pray today that God show you how to be humbler, like Jesus, and pray that God gives you opportunities this week to be humble.
--Jose Beltran
June 7: Reconciliation [Katallage]
2 Corinthians 5: 16-21
So from now on we regard no one from a worldly point of view. Though we once regarded Christ in this way, we do so no longer. Therefore, if anyone is in Christ, the new creation has come: The old has gone, the new is here! All this is from God, who reconciled us to himself through Christ and gave us the ministry of reconciliation [katallage]: that God was reconciling the world to himself in Christ, not counting people's sins against them. And he has committed to us the message of reconciliation. We are therefore Christ's ambassadors, as though God were making his appeal through us. We implore you on Christ's behalf: Be reconciled to God. God made him who had no sin to be sin for us, so that in him we might become the righteousness of God.
In this verse the word reconciliation is used a lot. Katallage means the restoration of relationship, in this case with God. It is the restoration of our access to God as sinners. God brought Jesus into this world so that through our repentance, even as sinners, we can have access to the Glory of God and to Heaven. The old is gone and the new is here! The reconciliation is not just a mere transaction, it is life altering and lifesaving.
The key to this verse is that Paul is saying that we are the ambassadors and messengers of this reconciliation with others. It is out duty, as those who are reconciled, to have others join into this relationship with God. This is the ministry that God has provided for us! Will you step into that ministry? This is one of our most important roles as followers of Christ. We do not have the capabilities of saving others and forgiving our sins, but it is our role to help bring people to God to begin the reconciliation process.
I think we have trouble with evangelism at times because we think that people have to accept God after one event or one church service. We just need to bring people access and knowledge to God and allow God to be the reconciler. Go out and talk to your family, friends, coworkers, etc (while also distancing) and do your best to expose people and help begin their relationship with God. It is a process with people and very rarely is one exposure enough for people to commit to believing in Jesus. Invite people to our church zoom service, tell them what God has done in your life or explain to people what God provides in their lives. The first step in the ministry of reconciliation is exposure and getting the conversation started. Let people hear or experience a little of God, and allow God to do the rest. Pray today that God gives you the courage to speak to others, pray that God gives you the creativity to find ways to begin conversations with people and pray that God gives you grace in your interactions so that those you speak to are more willing to listen.
--Jose Beltran
June 6 - Mega Storm
Mark 4:37,39
And there arose a great storm of wind, and the waves beat into the ship so that it was now full…. And he [Jesus] arose, and rebuked the wind, and said unto the sea, Peace, be still. And the wind ceased, and there was a great calm.
Sometimes as we go about our lives all is normal and calm, and then suddenly unexpected and uncalled-for calamities come upon us. In his gospel, Mark describes one such case. Jesus and the disciples were in a boat, so that Jesus can preach the Kingdom of God to the people living on the other side of the lake. In the middle of the night, a great storm of wind arose. In the Greek, "there arose" comes from the word ginomai, meaning something that happens unexpectedly, something that catches one off-guard, it emphasizes the element of surprise.
The words for "great storm" are the Greek words mega lalaipsi. Mega we still used today; it denotes something of massive proportions. Lalaipsi means whirlwind, a turbulent of terribly violent wind, gale, a fierce squall.
As Christians, it is important for us to remember that in our lives mega storms will rise suddenly and unexpectedly. But we know the end of the story – Jesus rebuked to storm, He commanded "Peace" to the wind, and both the wind (the cause of the storm) and the waves (the results in our lives of the storm) returned to their peaceful place. Today we have the same Spirit of Jesus, the Holy Spirit, and the same authority to command the invisible forces of darkness to be still. Let's learn how to use our authority with the power of the Holy Spirit.
--Vessie Kazachka
(Greek definitions and explanations from Rick Renner's devotional book "Sparkling Gems from the Greek")
June 5 - Revealed by the Spirit
I Corinthians 2:9-10
But as it is written, eye has not seen, nor ear heard, neither have entered into the heart of man, the things which God has prepared for them that love Him. But God has revealed (apokalupto) them unto us by His Spirit: for the Spirit searches all things, yea, the deep things of God.
Two days ago we saw the word revelation – apokalupsis in Greek – in the apostle Paul's prayer. In today's scripture, the same root word (apokalupto) is used to say that God reveals His plans for us to us by His Spirit that dwells in us.
Revealed (apokalupto) in the above verse translates also as to unveil or to uncover. It is a picture of something that is veiled or hidden at a moment when its veil or covering is suddenly removed. I've heard it described and I've experienced it myself like this: when I'm seeking an answer from God about something, I determine what specifically I need to know, then I pray for it asking in the name of Jesus, and then I stop thinking about it. I don't expect to reason it out in my mind or figure it out by constantly thinking on it. I just go about my daily business. And in a few days, as I'm doing my regular routine, opening the refrigerator, stepping out of the shower, reading an article, I'm suddenly aware of the answer – in an instant! Nobody told it to me, I didn't logically come to a conclusion, I simply let the Spirit do its work inside my spirit, and He opened the curtain. In an instant I am aware of something I didn't know before. Now I have my answer, prepared by God and revealed by the Holy Spirit inside my heart.
Practice asking God for advice and waiting on the Holy Spirit for the revelation. With regular practice, hearing from Him will become an easy daily activity and will lead us on God's path for our lives.
--Vessie Kazachka
(Greek definitions and explanations from Rick Renner's devotional book "Sparkling Gems from the Greek")
June 4- Hope [Elpis]
1 Peter 3: 13-16
Who is going to harm you if you are eager to do good? But even if you should suffer for what is right, you are blessed. "Do not fear their threats; do not be frightened." But in your hearts revere Christ as Lord. Always be prepared to give an answer to everyone who asks you to give the reason for the hope [elpis] that you have. But do this with gentleness and respect, keeping a clear conscience, so that those who speak maliciously against your good behavior in Christ may be ashamed of their slander.
The definition of elpis here is the joyful and confident expectation of eternal salvation. In this verse, the Apostle Peter is asking us to always have an answer for the elpis we have in Jesus. It seems pretty simple, but think about it: do you have that answer? If someone asked you right now to explain the hope you have in Jesus, how would you respond? Could you?
With the turmoil that is going on in this country, we could use more hope now than ever before. It seems like everything is falling apart and the very fabric of our society is collapsing. People have lost trust in institutions, there is still a pandemic and it seems that people are in constant arguments with one another. Though the verse is speaking specifically on having a defense with people speak maliciously to you, the elpis in the verse is very real for all situations in our lives.
Today we pray for elpis. The hope that Jesus can redeem all the terrible things going on in our lives. We pray that even through the turmoil, that all people can see the glory of his salvation. As we have read before, Jesus is the Prince of Peace [Sar Shalom]. If there is any way for us to bring peace and health to this country, and the world, it needs to be through Jesus. The elpis we have goes beyond just peace, it is for the salvation of all.
--Jose Beltran
June 3 - Led by the Spirit of God
Romans 8:14
For as many as are led by the Spirit of God, they are the sons of God.
How do we make decisions in our lives? How do we know which way to go when we have to make choices in our daily lives? For those of us, who are Christians, we could say we follow Christ. How do we actually do that?
The apostle Paul, who became a Christian by revelations and turned from a persecutor of the faith to one of the biggest advocates of it, writes to the church in Rome and explains the process - we lead our lives by being led by the Spirit of God.
The Greek word for 'led' is ago, which describes the act of leading an animal, such as a cow or a goat, at the end of a rope. The owner would wrap a rope around the animal's neck and then gently "tug" or "pull" until the animal started to follow him. In the US reigning horses might be a more familiar picture. I've read that a well-trained horse responds to the slightest touch of the reigns on his neck.
In order to follows Jesus in our lives, we must learn to respond to the gentle "pull" of the Holy Spirit in our hearts. He isn't forceful, or spectacular, or overwhelming in His dealing with us. He is gentle and sensitive.
Dedicate time to ask to Holy Spirit to let you experiences His gentle "pull." He will teach you His presence and lead you into God's purposeful and blessed life for you.
--Vessie Kazachka
(Greek definitions and explanations from Rick Renner's devotional book "Sparkling Gems from the Greek")
June 2 - Spirits of Wisdom and Revelation
Ephesians 1:17-21
I keep asking that the God of our Lord Jesus Christ, the glorious Father, may give you the Spirit of wisdom [sophias] and revelation [apokalupsis], so that you may know him better. I pray that the eyes of your heart may be enlightened in order that you may know the hope to which he has called you, the riches of his glorious inheritance in his holy people, and his incomparably great power for us who believe. That power is the same as the mighty strength he exerted when he raised Christ from the dead and seated him at his right hand in the heavenly realms, far above all rule and authority, power and dominion, and every name that is invoked, not only in the present age but also in the one to come.
Sophias- old Greek used to describe insight or wisdom not naturally obtained.
Apokalupsis- something that has been veiled or hidden for a long time and then suddenly, almost instantaneously clean and visible to the mind.
In this verse, the apostle Paul is praying that we be given the sprit of wisdom and revelation. The wisdom described here is beyond our own wisdom and what we would attain ourselves. He is praying that we receive a supernatural wisdom that comes from God. As humans, our cognitive thinking and wisdom has boundaries, but with God it is infinite and even surpasses time and space. Our thoughts are based on the present constraints of time, but God's thought is beyond time. What I am trying to say is that our wisdom is finite, and God's is infinite and a billion times better than ours.
Where wisdom is insight or knowledge, revelation is just the bringing of something hidden to be visible. As we grow in our faith, there are always new things that are revealed to us and new characteristics of God that are revealed to us. Most of these items have always been in front of us, but something changes in either our understanding or in our experiences that opens these hidden things to us. For example, God's character is always the same but we need to have some kind of experience for us to really see it.
When Paul prays for us to have these two Spirits, he prays that these two Spirits will allow us to see and know God better. He wants us to see the greater things in our lives and of this world. He wants us to see the calling God for us and His great, mighty power. I challenge you today to pray for these two Spirits with the original Greek words used. Pray that you gain the wisdom of God in your present situations and problems, ask that you gain the insight of God to solve your issues. Pray that the Spirit of revelation come into your life and reveal the hidden paths in your life. These are real things that you can receive from God, and it is up to you to ask for them and to believe that you can receive them.
--Jose Beltran
June 1 - As a Little Child
Mark 10:13-16
They brought young children to Him, that He might touch them. But the disciples rebuked those who brought them. But when Jesus saw it, He was very displeased and said to them, "Allow the little children to come to Me, and do not forbid them, for of such is the kingdom of God. Truly I say to you, whoever does not receive the kingdom of God as a little child shall not enter it." And He took them up in His arms, put His hands on them, and blessed them.
In 1925, a World Conference on Child Welfare in Geneva proclaimed an International Children's Day. In the US it is celebrated on Nov 20, but in a number of other countries, including my birth country of Bulgaria, it is celebrated today, June 1.
In the above scripture, the words "little child" or "little children" come from the Greek word paidion, which means an infant, a half-grown child - a very young child. People brought their young children to Jesus, and the disciples pushed them away - did they think it is not necessary for them to see Jesus, since they were not of comprehending, mature age? Did they feel this will be a waste of Jesus' time? Not only did Jesus receive them and bless them, but He told His disciples they must become like a little child. What does that mean?
An infant, a young child is happy when they are healthy, loved, fed, and warm. They know and recognize their parents and are quick to trust them. They are honest, don't pretend, and don't hide their feelings. They will tell their parents directly what they want. They are always happy to see their parents and seek their hug or protection.
To be children of God, let us take those qualities - let us learn on know and recognize our Father in our daily lives, let us be quick to trust Him. Let us be honest, don't entertain deceit, don't pretend. Let us share everything we experience with our Father. He wants to spend time with us just like Jesus wanted to be with the little children.
--Vessie Kazachka
May 31 - The Holy Spirit as My Intercessor
Romans 8:26
Likewise the Spirit also helps our infirmities: for we know not what we should pray for as we ought: but the Spirit Himself makes intercession for us with groanings with cannot be uttered.
Today we celebrate Pentecost - the day that the Holy Spirit came upon the first Christian believers to stay on and in them and on all the rest us who follow in their steps.
The Holy Spirit is the third person of our God. He is fully God and after Jesus ascended back to heaven, the Holy Spirit came to live on the earth inside of every believer of Christ. He will remain here until Jesus's second coming.
Why did He come? Because we need help. Jesus refers to Him as "our helper" in the gospel of John. Today I'd like to draw your attention to the word intercession in the above scripture. It is the old Greek word huperentugchano and it that does not appear to exist outside of early Christian literature. This word is a picture of one who comes upon someone who has fallen into some kind of quandary and swiftly goes into action to rescue them. It conveys the idea of a rescue operation.
The Holy Spirit is our rescuer - and He is fully knowledgeable and capable of doing His work. Our job is to look to Him, ask Him for His help and study to scriptures to understand Him better. In the difficult time that we live in, rely on the Holy Spirit for your rescue.
--Vessie Kazachka
(Greek definitions and explanations from Rick Renner's devotional book "Sparkling Gems from the Greek")
May 29 - Esh Oklah (Consuming Fire)
Deuteronomy 4:23-24
Be careful not to forget the covenant of the Lord your God that he made with you; do not make for yourselves an idol in the form of anything the Lord your God has forbidden. For the Lord your God is a consuming fire [Esh Oklah], a jealous God.
In California we know what wildfires are like and what they can become. In the dry summers, once a small flame is started in nature it expands quickly and engulfs almost everything in its path. The translation for this name of God is literally "Eat by fire". God is described as this wildfire that consumes everything in this world. God is also a jealous God and does not want us to put anything before them.
God is not just an all-consuming fire of this world; God wants to be an all-consuming fire in our own lives. He wants to take over all aspects of our lives, and it is up to us if we allow that. We say that we believe God can heal, or that God can bring people out of tough situations, but we may not have trust that God has control of our finances. We may say that we believe in Jesus as our savior, but then also not want to mend peace in relationships we have. God does not want us to pick and choose what we believe and what we do. God wants all of us in everything we do.
Today pray to God as Esh Oklah and ask him to consume every part of your life. Pray that you can give full trust and confidence in God in all aspects of your life. Remember that God is jealous for us, and God truly wants to have a relationship with you. It is not easy, and it is not just solved at one point, but it is a journey and steps you can take to achieve the relationship God wants with you.
--Jose Beltran
May 28 - El-Bethel (The God of the House of God)
Genesis 35: 6-7
Jacob and all the people with him came to Luz (that is, Bethel) in the land of Canaan. There he built an altar, and he called the place El Bethel [The God of the House of God], because it was there that God revealed himself to him when he was fleeing from his brother.
Jacob promised to make an altar to the Lord, and he did it in Luz which he later called Bethel. Bethel means the house of the Lord. So then, Jacob creates an altar and calls it El-Bethel, which means the God of the House of God. It seems so redundant, but it also shows Jacob's definitive declaration of God. He is saying "This is the house of God, my God". This is the place that God appeared to Jacob.
God is not limited to their appearance or their glory at a church building. God can appear to you and even speak to you at your own home. Any place can be Holy Ground when there is a presence of God and the Holy Spirit. I challenge you to make a small altar to the Lord in your home. Declare your home as Bethel! Then pray to God as El-Bethel and pray to draw closer to God. Pray that God tangibly reveal themselves to you and that you may draw closer to God.
--Jose Beltran
May 27 - Ruach Hakkodesh (Holy Spirit)
Psalm 51:10-12
Create in me a pure heart, O God, and renew a steadfast spirit within me. Do not cast me from your presence or take your Holy Spirit (Ruach Hakkodesh) from me. Restore to me the joy of your salvation and grant me a willing spirit, to sustain me.
Our God is a triune God - He has three persons - Father, Son, and Holy Spirit. I think we often forget that the Holy Spirit is as much God as Jesus or the Father. The Holy Spirit is a promise and a gift to us here on this earth to guide us, help us, refresh us. He is with us, inside our own spirit.
John 16:13
But when He, the Spirit of truth, comes, He will guide you into all the truth. He will not speak on His own; He will speak only what He hears, and He will tell you what is yet to come.
We don't pray to the Holy Spirit, but we can speak with Him, ask Him to speak to us to show us God's plan for us, give us advice on what to do when we need to make decisions. He works in us to restore us when we need it.
Use the power of the Holy Spirit daily - speak to Him and learn how to hear His voice - He carries God's life and wisdom to and for us. He will help us in every situation.
--Vessie Kazachka
May 26 - Immanuel (God with Us)
Isaiah 7:14
Therefore the Lord Himself will give you a sign: Behold, a virgin will be with child and bear a son, and she will call His name Immanuel (God with us).
One of the most wonderful things about Christianity is the incarnation. God created man. Man violated the laws of life and lost his divinely given life. Instead of discarding his as lost, God created a path to bring man back to divine life by making a divine Son become a human son. This human son did not violate the laws of life and was worthy of resurrection back into divine life - and all of us, who believe in Him, receive this divine eternal life.
Today, pray with boldness in the name of Jesus - God with us. The Father will absolutely honor His promise and His name. He is with us to help us and save us. Eternal life isn't something we have once we die; eternal life beings today!
John 6:47
Very truly I tell you, the one who believes has eternal life.
And life means ability and strength to respond and recover, to be healed, to survive, to succeed. Always remember you have life, the life of God inside you.
--Vessie Kazachka
May 25: El Hakabodh (The God of Glory)
Psalm 29: 1-4,7-11
(v.1) Ascribe to the Lord, you heavenly beings,
ascribe to the Lord glory and strength.
Ascribe to the Lord the glory due his name;
worship the Lord in the splendor of his holiness.
The voice of the Lord is over the waters;
the God of glory [El Hakabodh] thunders,
the Lord thunders over the mighty waters.
The voice of the Lord is powerful;
the voice of the Lord is majestic. [….]
(v.7) The voice of the Lord twists the oaks
and strips the forests bare.
And in his temple all cry, "Glory!"
The Lord sits enthroned over the flood;
the Lord is enthroned as King forever.
The Lord gives strength to his people;
the Lord blesses his people with peace.
The voice of the Lord is powerful. It is the voice of the Lord that creates life in Genesis. He literally speaks existence into life. In this verse, the voice of the Lord has power over nature and the writer is making sure the reader understands how vast the glory of God is and just how much we should be worshiping His glory. Sometimes we diminish our view of God and the power God has. When a prayer is too big, we often think "Well, God cannot really do that". For example, we can pray that God be the head of this country and truly be in control. In the back of our minds we think that it is impossible for God to move at that level. God can move one person, but a whole nation?
Expand your view of God and think higher, pray bigger, and choose to believe the extent of His Glory. If you believe that God can create life, then believing God can be in control of this nation, or even this pandemic. Today pray to God as El Hakabodh, and I challenge you to pray bigger and believe bigger. God is glorious and powerful. There is nothing God cannot do. Why voluntarily hold back a prayer because you do not think it is possible? God is King forever and He reigns in this world with full control. Pray bigger because God is bigger.
--Jose Beltran
May 24 - Elohei Tehillati (God of My Praise)
Psalm 109:1-4, 21, 30-31
Do not remain silent, O God (Elohei) of my praise (Tehillati)!
For the mouth of the wicked and deceitful are opened against me;
they have spoken against me with a lying tongue.
They encircled me with words of hatred and fought against me without cause.
In return for my love they are my adversaries, but I give myself to prayer.
But You, O God my Lord, work on my behalf for your name's sake;
because your mercy is good, deliver me.
I will greatly praise the Lord with my mouth;
indeed I will praise Him among the multitude.
For He stands at the right hand of the poor,
to save him from those who condemn his soul to death.
David begins this psalm calling to God - the God of his praise. David is in a difficult place - people who he considered friends have turned against him, they have brought accusations against him. Today this could be slanderous articles in the media, or a lawsuit, or just gossip among friends and family.
Yet David doesn't call the mighty God, or the God of Armies, or the All-knowing God; he calls the God of his praise. Very often praise is underestimated. It is considered a nice song to get us unto a good mood to pray or listen to a sermon. But praise is a lot more than that. It is a powerful force that brings God to the scene to act on our behalf and defend us from evil. David praises Him, because He knows his God - a good and faithful God. Notice verse 21: God my Lord, work on my behalf for your name's sake;
because your mercy is good, deliver me.
When you are in tough place, pray your petition before the Lord and then just praise Him for His mercy, for His goodness, for His faithfulness to His own name and covenant. His deliverance will be speedy!
--Vessie Kazachka
May 23 - El Simchath Gili (God My Exceeding Joy)
Psalm 43:4
Then I will go to the altar of God, to God, my joy and my delight (El Simchath Gili).
I will praise you with the lyre, O God, my God.
Praising God is a big topic in the Bible. Both New and Old Testament encourage believers to praise God for their deliverance - both before and after. In praise, God comes to the scene - to deliver and to commune with His people.
If we think of God as joy and delight, it won't be difficult to praise Him. Yet often, we get buried under Bible studies, church obligations, and religious activities, that we forget how good God is and how pleasant it is to be in His presence.
Today, take time to remember the good things the Lord has done for you. Remember the joy and light of His presence. If you don't know God as joy, ask Him to reveal Himself to you. If you do - take time to relive those joyous moments in the Lord. And praise Him!
--Vessie Kazachka
May 22 - Elohim Chaseddi (The God of My Mercy)
Psalm 59:10
My God (Elohim) in His mercy and steadfast love (Chaseddi) will meet me,
God will let me look triumphantly upon my foes.
Not too long ago I read about this word Chaseddi. It comes from the Hebrew work Chesed, translated in the KJV Old Testament as mercy or lovingkindness. Today we mostly think of this as an emotion.
A book by the American rabi Nelson Glueck, written in 1967, Hesed in the Bible, describes it this way: "hesed [chesed] is the conduct required in the mutual relationship between allies. The obligations and rights acquired through a covenant are translated into corresponding actions through hesed... The hesed of Yahweh is, therefore, not to be understood as "grace," "favor," or "kindness," but as the covenantal relationship between Him and Abraham... Hesed can only be understood as Yahweh's conduct toward His faithful, based on the covenant. The correct translation therefore is "faithfulness, loyalty according to the covenant," or "help, loyally given as promised in the covenant."
Reading this made me see God's mercy and love in a new way. He made His promise of goodwill toward mankind of Himself, He wasn't forced or compelled into it. He obligated Himself to be our help, our protection and mercy. Yes, emotion of love is definitely there, but it isn't just a nice feeling towards me because I did something good. It is a promise of love and protection for me He gives on His own accord because of His promise. As long as I believe in Jesus and seek Him, I am covered and protected in this covenant of love and mercy!
As you pray today, lean into the covenant and expect God's help in anything you need help with. He is faithful and loyal.
--Vessie Kazachka
May 21- Sar Shalom (Prince of Peace)
Isaiah 9:6-7
For to us a child is born,
to us a son is given,
and the government will be on his shoulders.
And he will be called
Wonderful [Pele] Counselor [Joez], Mighty God [El Gibbor],
Everlasting Father [Avi'ad], Prince of Peace [Sar Shalom].
Of the greatness of his government and peace
there will be no end.
He will reign on David's throne
and over his kingdom,
establishing and upholding it
with justice and righteousness
from that time on and forever.
The zeal of the Lord Almighty
will accomplish this.
The final name of the Messiah in this verse is Sar Shalom or Prince of Peace. Shalom has a greater definition that our definition of peace. We see peace as just an absence of conflict, but Shalom means completeness, soundness, welfare and peace. As the Prince, Jesus is the ruler of all peace. Again, this peace is not just peace against conflict, this peace is also internal. In the midst of the struggles of your life, the very real danger of this pandemic, and the uncertainty in life, there is still opportunity for peace in your life. Let us take a look at Ephesians 2:13-18
But now in Christ Jesus you who once were far away have been brought near by the blood of Christ. For he himself is our peace, who has made the two groups one and has destroyed the barrier, the dividing wall of hostility, by setting aside in his flesh the law with its commands and regulations. His purpose was to create in himself one new humanity out of the two, thus making peace, and in one body to reconcile both of them to God through the cross, by which he put to death their hostility. He came and preached peace to you who were far away and peace to those who were near. For through him we both have access to the Father by one Spirit.
Jesus is peace, preached peace and brings peace. That peace brings people together and brings people closer to God. I believe that being in peace removes the distractions in our lives and in our minds and allows us to focus more on God. Many times, we struggle with our prayer lives because we are filled with stressors in our lives and all we can focus on are the negatives in our lives. I challenge you today, to pray for peace today in your life if you are truly struggling. Pray to Jesus as Sar Shalom and ask for that everlasting peace so that you can focus better on God.
As an added note, you may need to make peace with someone else in your life. Pray that God may give you the strength and courage to actually initiate the peace talk with the other person and pray for God's favor in that relationship. Sar Shalom can bring peace to any situation, and his peace brings people closer together, and again, brings people closer to God. Trust in Jesus.
--Jose Beltran
May 20 - Avi'ad (Everlasting Father)
Isaiah 9:6-7
For to us a child is born,
to us a son is given,
and the government will be on his shoulders.
And he will be called
Wonderful [Pele] Counselor [Joez], Mighty God [El Gibbor],
Everlasting Father [Avi'ad], Prince of Peace [Sar Shalom].
Of the greatness of his government and peace
there will be no end.
He will reign on David's throne
and over his kingdom,
establishing and upholding it
with justice and righteousness
from that time on and forever.
The zeal of the Lord Almighty
will accomplish this.
The next name of the Messiah in this verse is Avi'ad or the Everlasting Father. What this means is that Jesus will be the Father of all his people for all eternity. If you have accepted Jesus as your savior, and you have accepted him as your father (and also technically mother), then that relationship will never end or be taken away. This goes beyond just this life as well; this goes into our time in Heaven as well. There is NEVER a break or moment where Jesus is not looking over you and caring for you.
In Deuteronomy 32:6, it reads:
Is this the way you repay the Lord,
you foolish and unwise people?
Is he not your Father, your Creator,
who made you and formed you?
In context, when the Israelites read Isaiah, they imagined the Messiah as this Father described in Deuteronomy. The father who lead them out of slavery and through the desert to the promise land. The father who provided Mana from heaven to survive and the Father who vanquished their enemies so that they could continue their journey. This same father created them and their nation, and he is the creator of you. What are your daily needs and what provisions do you need from God? Today pray to Jesus as Avi'ad and make your requests to Jesus as he truly cares for you as your Everlasting Father.
--Jose Beltran
May 19 - El Gibbor (Mighty God)
Isaiah 9:6-7
For to us a child is born,
to us a son is given,
and the government will be on his shoulders.
And he will be called
Wonderful [Pele] Counselor [Joez], Mighty God [El Gibbor],
Everlasting Father [Avi'ad], Prince of Peace [Sar Shalom].
Of the greatness of his government and peace
there will be no end.
He will reign on David's throne
and over his kingdom,
establishing and upholding it
with justice and righteousness
from that time on and forever.
The zeal of the Lord Almighty
will accomplish this.
The next name of the Messiah in this verse is El Gibbor. Jesus is a God of strength and valor. Some people translate this as Mighty Warrior God. Jesus will always prevail and has authority over all. Sometimes in our worst situations or when we are low, we forget just how mighty and powerful Jesus is. Let us take a look at this passage:
Mark 9: 20-25
So they brought him [the child]. When the spirit saw Jesus, it immediately threw the boy into a convulsion. He fell to the ground and rolled around, foaming at the mouth.
Jesus asked the boy's father, "How long has he been like this?"
"From childhood," he answered. "It has often thrown him into fire or water to kill him. But if you can do anything, take pity on us and help us."
"'If you can'?" said Jesus. "Everything is possible for one who believes."
Immediately the boy's father exclaimed, "I do believe; help me overcome my unbelief!"
When Jesus saw that a crowd was running to the scene, he rebuked the impure spirit. "You deaf and mute spirit," he said, "I command you, come out of him and never enter him again."
Can you imagine Jesus' response? I can see Jesus thinking to himself "I am the Son of God, of course I can heal this child!". I feel like that is Jesus's response to a lot of our prayers. We do not have the confidence or belief that Jesus is able and He just wants us to believe and have faith. I challenge you today to pray to Jesus as El Gibbor, but pray in the confidence of His might. Do not use the words "can" or "if". Know that He will!
--Jose Beltran
May 18 - Pele Joez (Wonderful Counselor)
Isaiah 9:6-7
For to us a child is born,
to us a son is given,
and the government will be on his shoulders.
And he will be called
Wonderful [Pele] Counselor [Joez], Mighty God [El Gibbor],
Everlasting Father [Avi'ad], Prince of Peace [Sar Shalom].
Of the greatness of his government and peace
there will be no end.
He will reign on David's throne
and over his kingdom,
establishing and upholding it
with justice and righteousness
from that time on and forever.
The zeal of the Lord Almighty
will accomplish this.
This is the verse for the next 4 days. This is one of the many prophecies of Jesus that were fulfilled. For unto us is born the Son of Man, who will put the government on his shoulders. When the Israelites read this passage, they expected the Messiah to dethrone the Roman government, but in reality, this passage is more about the second coming of Christ and his reign at the end of days. God will rule above all governments and the Earth in the final days.
In this verse, we are being told that this Messiah will be referred to by 4 names. In the next 4 days, we will look at all these names to get a better picture of God. The first name is Pele Joez (or Pele Yo'etz] which is Wonderful Counselor. Wonderful is something that brings amazement and marvel and counselor in this context is used to refer to guidance, usually from a ruler. This name can be interpreted in so many ways. Some say that this means that Jesus counsels over wonderful events (so larger events). Some say that this means that Jesus counsels with wonderful acts (or miracles). Some say this means that Jesus counsels us to bring wonders in our lives. The truth is that all these things are true. The guidance of Jesus is far beyond just providing directions, which is where we often pray first. "God, please show me my path", "God where should I go". This is not a bad thing to pray, but Jesus's guidance is marvelous! Pray bigger and more complex (wonderful) with Jesus.
Today pray to Jesus and refer to him as Pele-Joez. Ask for the deeper, more marvelous counsel and guidance from Jesus in your journey. Pray beyond just directions and where to go next or what to do next. Pray that the Wonderful Counselor gives you the greater picture of your current path. He can answer in marvelous ways, so believe that he can and be prepared to receive so!
--Jose Beltran
May 17 - Jehovah-Jireh (The Lord Will Provide)
Genesis 22:7-18
Abraham took the wood for the burnt offering and placed it on his son Isaac, and he himself carried the fire and the knife. As the two of them went on together, Isaac spoke up and said to his father Abraham, "Father?" "Yes, my son?" Abraham replied. "The fire and wood are here," Isaac said, "but where is the lamb for the burnt offering?" Abraham answered, "God himself will provide the lamb for the burnt offering, my son." And the two of them went on together. When they reached the place God had told him about, Abraham built an altar there and arranged the wood on it. He bound his son Isaac and laid him on the altar, on top of the wood. Then he reached out his hand and took the knife to slay his son. But the angel of the LORD called out to him from heaven, "Abraham! Abraham!" "Here I am," he replied. "Do not lay a hand on the boy," he said. "Do not do anything to him. Now I know that you fear God, because you have not withheld from me your son, your only son." Abraham looked up and there in a thicket he saw a ram caught by its horns. He went over and took the ram and sacrificed it as a burnt offering instead of his son.
So Abraham called that place The LORD Will Provide. And to this day it is said, "On the mountain of the LORD it will be provided." The angel of the LORD called to Abraham from heaven a second time and said, "I swear by myself, declares the LORD, that because you have done this and have not withheld your son, your only son, I will surely bless you and make your descendants as numerous as the stars in the sky and as the sand on the seashore. Your descendants will take possession of the cities of their enemies, and through your offspring all nations on earth will be blessed, because you have obeyed me."
This is another instance of a Bible story that is so popular, it is easily dismissed as a fable, as something that happened long ago but can no longer happen in our modern days. Yet again, if we believe the Bible, if we believe we are going to heaven, if we believe Jesus paid for our sin - if we believe in sin at all, then we must believe that God is the same and He is as involved in our lives today as He was in Abraham's.
Abraham knew The Lord so well, he is called a friend of God in the Bible. He considered the Lord's opinion, desires, knowledge, asked for His counsel regularly in daily matters. And the Lord was always there for Him is difficult situations or in danger. The name Jehovah-jireh means deliverance, salvation, and omniscience, which is a fancy word for pre-vision - for seeing ahead, foreseeing circumstances and actions, and being prepared, providing the necessities so as to come out well and whole out of any circumstances. That day Abraham learned this attribute of his Heavenly Father by experience.
Get to know your father God. Read the Bible as if it is a newspaper - as if it happened today and applies to you. Ask Him to reveal Himself to you in new ways. We live in challenging times, and knowing our God is our key to succeeding, coming safely out of danger, and living out our lives for God's glory.
--Vessie Kazachka
May 16 - El Sali (God, My Rock)
2 Samuel 22 (excerpts)
David sang to the LORD the words of this song when the LORD delivered him from the hand of all his enemies and from the hand of Saul. He said: "The LORD is my rock, my fortress and my deliverer; my God is my rock, in whom I take refuge, my shield and the horn of my salvation. He is my stronghold, my refuge and my savior— from violent people you save me. I called to the LORD, who is worthy of praise, and have been saved from my enemies.
"In my distress I called to the LORD; I called out to my God. From his temple he heard my voice; my cry came to his ears. The LORD thundered from heaven; the voice of the Most High resounded. He shot his arrows and scattered the enemy, with great bolts of lightning he routed them.
"For who is God besides the LORD? And who is the Rock except our God? It is God who arms me with strength and keeps my way secure. He makes my feet like the feet of a deer; he causes me to stand on the heights.
"The LORD lives! Praise be to my Rock! Exalted be my God, the Rock, my Savior! He is the God who avenges me, who puts the nations under me, who sets me free from my enemies. You exalted me above my foes; from a violent man you rescued me. Therefore I will praise you, LORD, among the nations; I will sing the praises of your name. "He gives his king great victories; he shows unfailing kindness to his anointed, to David and his descendants forever."
2 Samuel chapter 22 is the praise song king David sings to the Lord after being saved from his enemies - other nations, formers kings, former friends, people who were jealous of him, people who wanted his position and talent. It can be difficult in our days to place ourselves in his shoes - we are not kings, we are not being chased by an army, we don't have to hide in a desert. Yet we could have problems like being sued, being mistreated in your job, being prejudiced against, business competitors or partners trying to cheat you out of a contract or a position.
Evil and jealous intentions are part of the sinful human nature and are still around us, but like David we can have salvation from all these things if we come to know God as our Rock - an unmovable unshakable place we can stand on that will withstand every attack. The apostle Paul says it this way in 2 Corinthians 2:14 "But thanks be to God, Who in Christ always leads us in triumph."
Today, read the entire chapter 22 of 2 Samuel. Imagine yourself in David's place. Look for God as the Rock, the unshakable defender David saw. Ask the Lord to reveal Himself to you as your Rock, your Savior. We are David's descendants and He is faithful to His promise.
--Vessie Kazachka
May 15 - Elohim Chayim (The Living God)
Joshua 3:9-13
So Joshua said to the children of Israel, "Draw near and hear the words of the Lord you God." And Joshua said, "This is how you will know that the living God (Elohim Chayim) is among you and that he will certainly drive out before you the Canaanites, Hittites, Hivites, Perizzites, Girgashites, Amorites and Jebusites. See, the ark of the covenant of the Lord of all the earth is passing before you into the Jordan. Now select twelve men from the tribes of Israel, one man per tribe. When the soles of the feet of the priests who bear the ark of the Lord, the Lord of all the earth, touch the water of the Jordan, the water of the Jordan that flows from upstream will be cut off and pile up."
After walking 40 years in the desert, the people of Israel, the descendants of Abraham and Sarah, have a new leader, Joshua, who the Lord tasks with bringing them back into the land promised to Abraham and Sarah. The generations of Israelites who died in the desert did not learn to recognize the Lord and rebelled against Him. Now Joshua is a new leader leading a new generation into the plan of God for them. The Lord begins the journey with a great miracle - He stops the waters of the river Jordan so they can cross - in a way very similar to what Moses did 40 years before.
The Lord speaks to His people through Joshua and refers to Himself as the living God. He gives them proof of Himself - a great miracle that they need.
Today few people believe in miracles. Yet the Bible is full of them. And in this text it connects a miracle with God being a living God, real, active, reactive, participating, involved in the lives of His people. Maybe you don't need a big miracle today. Even if you just need strength to get through the day, pray today to God the living God - the one who reacts, who hears, who is involved, who responds, who participates in your life. He is there to help you and guide you into His promises.
--Vessie Kazachka
May 14 - Jehovah Ori (The Lord my Light)
Psalm 27: 1-4
The Lord [Jehovah] is my light [Ori] and my salvation—
whom shall I fear?
The Lord is the stronghold of my life—
of whom shall I be afraid?
When the wicked advance against me
to devour me,
it is my enemies and my foes
who will stumble and fall.
Though an army besiege me,
my heart will not fear;
though war break out against me,
even then I will be confident.
One thing I ask from the Lord,
this only do I seek:
that I may dwell in the house of the Lord
all the days of my life,
to gaze on the beauty of the Lord
and to seek him in his temple.
In the beginning God said 'Let there be light' and then there was no more darkness! In the Bible, the metaphor of the light is used very often. In this verse David, in the midst of his battles, simply states that God is his light and salvation and that is all he needs to remove all fears. He knows that he has salvation and that God is lighting his paths and guiding him. What more could he need?
Sometimes it is that simple. We may be dealing with our own battles and situations and we just need to go back to the basics. God is ultimately guiding us and we have confidence in salvation through Jesus! Later in Psalm 119:105, it is written "Your word is a lamp for my feet, a light on my path." We are never in darkness and we are never alone. There is always a light with God, and the truth is that at times God has lit a path for us and we are choosing not to follow it. Where are you today in your relationship with God? Are you looking for the light, do you not believe in the light, or are you choosing to ignore the light? Today when you pray, refer to God as Jehovah Ori and pray for your future and paths to be lit and revealed. Furthermore, pray in confidence and believe in David's statement! If God is with you, then truly whom shall you fear?
--Jose Beltran
May 13 - El Elyon (The Most High God)
Daniel 3:23-27
But the three men, Shadrach, Meshach, and Abednego, fell down, bound, into the furnace of blazing fire. Then King Nebuchadnezzar was astonished and rose up quickly. He said to his counselors, "Was it not three men that we threw bound into the fire?" They answered the king, "True, O king." He replied, "But I see four men unbound, walking in the middle of the fire, and they are not hurt; and the fourth has the appearance of a god." Nebuchadnezzar then approached the door of the furnace of blazing fire and said, "Shadrach, Meshach, and Abednego, servants of the Most High God, come out! Come here!" So Shadrach, Meshach, and Abednego came out from the fire. And the satraps, the prefects, the governors, and the king's counselors gathered together and saw that the fire had not had any power over the bodies of those men; the hair of their heads was not singed, their tunics were not harmed, and not even the smell of fire came from them.
Chapter 3 of the book of Daniel tells a well-know story - how the Hebrews Shadrach, Meshach, and Abednego refused to worship a statue of the king. The punishment for this was to be thrown into a burning furnace. When the three of the them were thrown in the fire, not only weren't they killed, but a forth man looking like the Son of God was with them, and when they came out of the fire, they didn't even smell of smoke. It was the king himself that referred to Shadrach, Mishach, and Abednego's God as El Elyon - the Most High God, because no-one had ever seen a salvation like this.
Today we read this story and it sounds to us like a fairy tale. Like fantastical fiction, like a Harry Potter book. But if we believe Jesus's death paid for our sins, then we must believe this story in exactly the same way - it happened just like that because the same source - the Bible - tells it. Do you believe in miracles? Do you believe that supernatural events can happen to YOU?
I challenge you today - read the whole chapter 3 of the book of Daniel. Think honestly - do you BELIEVE this story happened just like that? Do you believe the Lord, the Most High God, can do something so supernatural for YOU TODAY? And don't be afraid if the answer is no. We are bombarded with words and images that tell us there is no supernatural powers today. But our God is supernatural, and He is the Most High God, who can do above and beyond what we can ask or think. So relax in His presence and simply turn to Him asking Him to reveal Himself to you as the Most High. Faith doesn't come from trying and striving; it comes from knowing and experiencing God's presence. Commit to be in His presence today and every day.
--Vessie Kazachka
May 12- Jehovah Nissi (The Lord is my Banner)
Exodus 17: 10-16
"So Joshua fought the Amalekites as Moses had ordered, and Moses, Aaron and Hur went to the top of the hill. As long as Moses held up his hands, the Israelites were winning, but whenever he lowered his hands, the Amalekites were winning. When Moses' hands grew tired, they took a stone and put it under him and he sat on it. Aaron and Hur held his hands up—one on one side, one on the other—so that his hands remained steady till sunset. So Joshua overcame the Amalekite army with the sword.
Then the Lord said to Moses, "Write this on a scroll as something to be remembered and make sure that Joshua hears it, because I will completely blot out the name of Amalek from under heaven."
Moses built an altar and called it The Lord is my Banner. He said, "Because hands were lifted up against the throne of the Lord, the Lord will be at war against the Amalekites from generation to generation."
In one of the most unique battles in the Bible, the advantage in the battle was provided by God as long as Moses had his hands raised. We can see in the Bible that it did not have to be done on his own, and the help from Aaron and Hur was enough for the victory. Moses then built an altar to the Lord acknowledging that God truly had the victory and won the battle. Moses declared Jehovah Nissi at the altar. In this context, banner is a flag mostly used in battles. The flag designated which side you were affiliated with. In this, Moses is saying God is his flag.
What are the battles you are facing currently, and do you believe that God is your banner? Where do you need God to show you that He is your banner and where do you need victory? In your prayers today, refer to God as Jehovah Nissi and truly pray for the victory you need. As in the case of Moses, do not be afraid to get help. Call or message someone you trust or someone in church leadership if you need it. When God is the Banner then it is always a victory!
--Jose Beltran
May 11- El Roi (God Who Sees Me)
Genesis 16:7-13
The angel of the Lord found Hagar near a spring in the desert; it was the spring that is beside the road to Shur. And he said, "Hagar, slave of Sarai, where have you come from, and where are you going?"
"I'm running away from my mistress Sarai," she answered.
Then the angel of the Lord told her, "Go back to your mistress and submit to her." The angel added, "I will increase your descendants so much that they will be too numerous to count."
The angel of the Lord also said to her:
"You are now pregnant
and you will give birth to a son.
You shall name him Ishmael,
for the Lord has heard of your misery.
He will be a wild donkey of a man;
his hand will be against everyone
and everyone's hand against him,
and he will live in hostility
toward all his brothers."
She gave this name to the Lord who spoke to her: "You are the God who sees me [El Roi]," for she said, "I have now seen the One who sees me."
The story of Hagar is very complicated. Sarai tells Abraham to sleep with Hagar, their servant, to fulfil the promise God had for Abraham. Sarai could not conceive at that point so she thought Hagar could help with the fulfilment. Then when Hagar becomes pregnant, Sarai becomes mad, tensions arise and she mistreats Hagar. Hagar was forced into the situation and even when she tries to run away God tells her to go back to Sarai. God promises that a great nation will be produced from her child. In her interaction with God she declares God as El Roi, the one who sees her.
El Roi means more than God notices us, it means that God sees us in our desperation and in our lowest moments. When you feel like there is no hope, El Roi is there. When your situation is terrible, God is not just looking down on you letting things happen, God is actively invested in you and wants you to follow His will. Even with all the people on this planet, God sees YOU and your needs. Now can you say that you see the one who sees you? Meditate today and ask yourself if you truly believe that God sees you. Are you in the desert hiding and lost, hoping for guidance? Pray to God today, but say El Roi instead whenever you refer to God. Pray for guidance, support, or for whatever needs you have. He is there to see you!
--Jose Beltran
May 10 - IN HONOR OF MRS. RIYO KOWTA ON MOTHERS' DAY
Riyo Nagasaki, born in Japan to a Methodist minister, was sister to two brothers who became pastors. She learned early in life to serve Jesus and His Church. As she grew up, she was the church pianist and assisted in various responsibilities within the church. She majored in English at Tokyo Joshidai University, worked as a piano teacher to children of wealthy families. She married Sohei Kowta, a pastor from San Francisco, following a match making process. She came to the US having married a person to whom she barely knew. She assumed the role of a pastor's wife and raised three children. She spent three years in Poston, a US concentration camp, during World War II. Life of a pastor's wife with all of his responsibilities and limited income was not easy. She helped the church as pastor's wife and later as a member of Union Church became a Deacon. She loved the church and looked forward to worshipping with others each Sunday. She loved to sketch and her many pages of artwork would attest to her talent. She was loving and kind, but also strong willed. On this Mother's Day, we honor her for her life, her loving spirit to her Lord, Jesus Christ. She overcame life full of challenges as she continually sought to live a life in the saving grace of Jesus Christ. She joined her husband and Jesus at the age of 103.
There are many whose lives have ben more difficult and had overcome more, but as you evaluate your own life:
1. Can you accept Jesus as your Lord and Savior? Can you declare that He is your shepherd (Psalms 23:1)? Can you honor Him with all your heart, soul, mind, and strength? (Mark 12:30)
2. Can you then use your God given talent and abilities to glorify and serve His Church?
To all Mothers: Happy Mothers' Day! Thank you for your love and devotion to Jesus, your respective family as well as to others!
--Tadashi Kowta
May 9 - Mother's Day Special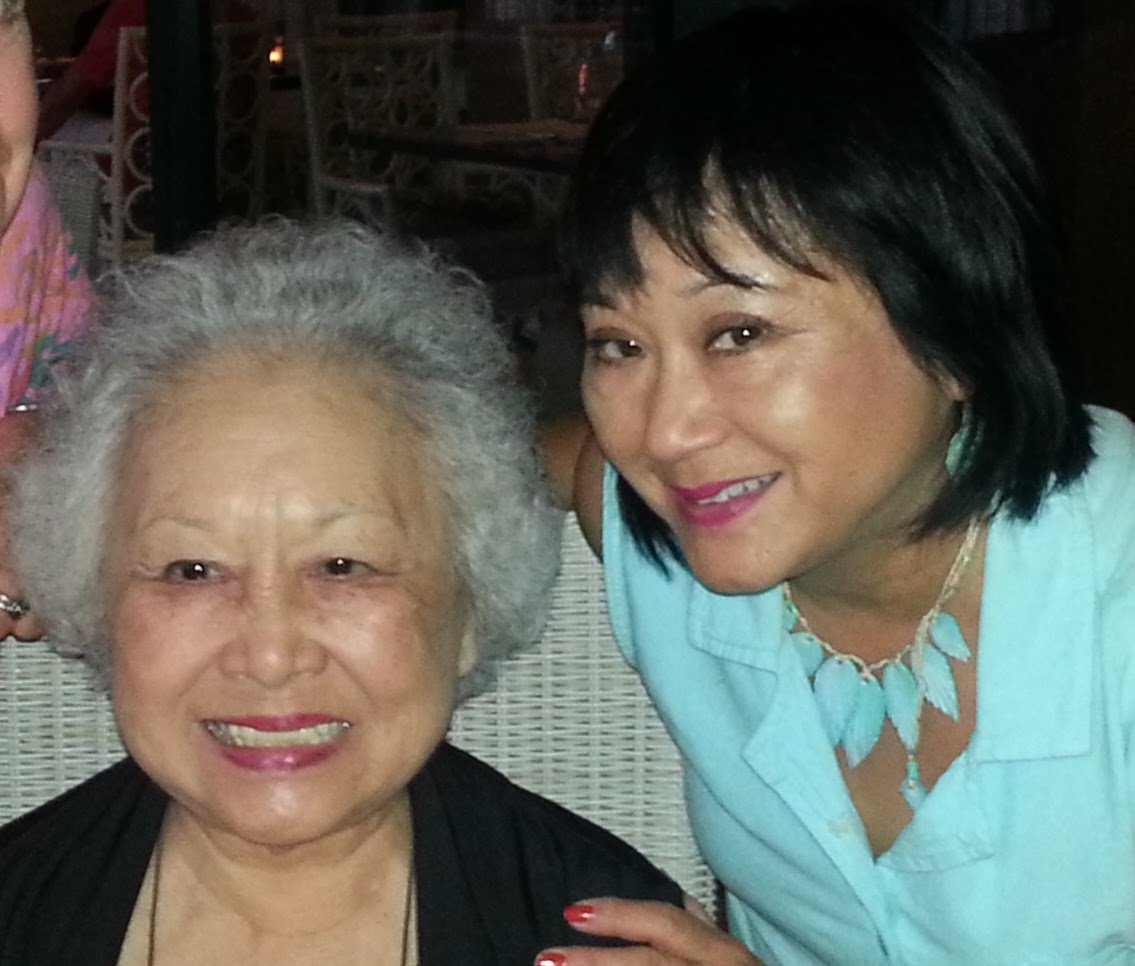 The Lord blessed me with a righteous and remarkable mother! She was widowed at age 46 and raised five children by herself on a secretary's salary. Mom lived with me, and passed away very gently a few months ago, at age 95. (I miss her so much, but look forward to seeing her in heaven!)
Before I retired, I worked in movie and television production, and frequently traveled for speaking engagements. If the venue's budget allowed for the speaker's spouse, I would often be asked if I wanted to have my husband travel with me. My reply would always be: "Thank you, I am single, but I would like very much to bring my Significant Mother!"
All of Mom's well-worn Bibles are filled with scribbles in the margins, and post-it notes! A note in her SENIORS' DEVOTIONAL BIBLE reads: "My favorite is Psalm #100" -- so, that is the scripture I have chosen to share in her memory. It is a wonderful passage to read aloud.
PSALM 100
Shout with joy to the Lord, all the earth.
Worship the Lord with gladness;
come before him with joyful songs.
Know that the Lord is God,
It is he who made us, and we are his;
we are his people, the sheep of his pasture.
Enter his gates with thanksgiving and his courts with praise;
give thanks to him and praise his name.
For the Lord is good and his love endures forever;
his faithfulness continues through all generations.
--Cathy Masamitsu
May 8 - Mother's Day Special: The Green Measuring Cup
During the stay-at-home order there has been plenty of time to remember my personal story. Endless hours to spend thinking of old memories. People, places, things.
As Mother's Day approaches I find myself thinking about my mother. My mom was born on a California egg ranch. She grew up with a hardworking father and a loving mother. With seven children, five boys and two girls, she enjoyed a noisy close knit family. Upon graduating from high school she was shipped off to a boarding school in San Francisco to be educated in Japanese culture, cooking, sewing and manners (like eating with white tablecloths and judged by how clean your place at the table was upon finishing).
All this "finishing" was in preparation for her to marry a second cousin in Japan. My grandfather had arranged the marriage. The master plan – to marry my mom off and establish a household in Japan in which my grandparents would ultimately move to Japan and live with her. WWII altered their lives. The master plan for her life was abandoned. She was free. In camp, she met and married my dad.
My father was in school most of my childhood and my mom stayed home with the children. I was very blessed to have the opportunity to spend so much time with her. So many memories. So many little things she did to show she loved her children. Maybe it was the homemade birthday cakes. Maybe it was the way she cared about our life and experiences. She said she would ask us every day when we returned from school how our day had been…she said I could go on for hours about my day. My brother took all of five minutes. Such has been my relationship with her. She was always ready to listen and comfort me. I was always willing to share. It was wonderful.
She gave me many of her things she had kept for 95+ years. I am sure they meant a lot to her. Though I remember her whenever I wear her pearls or her silver graduation watch, it is a simple kitchen green measuring cup that evokes my deep feelings of gratitude, thanksgiving and love I have for her. I still use the same plastic green measuring cup that she used countless number of times to measure pancake mix, rice, oatmeal, and chopped nuts for cookies. I can still picture her filling and emptying the bright green measuring cup.
So, on this Mother's Day I thank all mothers for their abundant love, and desire to listen to and comfort their children as does our Lord.
Happy Mother's Day Mom. See you on down the road. Love
Your Daughter, Suzanne.
Isaiah 66:13
As a mother comforts her child, so will I comfort you…
--Suzanne Hammond
May 7 - Magnificent Motherhood
Today I divide my life into two chapters of memories. The period of time when I was not a mother, and my life after Ravi's birth in 2005.
I am 'pre-Mom Christine', and 'Mom Christine'.
And although I have many similar traits and interests, there is a through-line in our heart and soul that changes when one becomes a mother.
Last Thanksgiving, we went to a large dinner and afterward, the whole group played games. One game was: each person pulls a card around the table and answers random questions. I forget the name of the game. You probably know it.
My card contained this question: "What is your biggest accomplishment in life?"
I spoke to the whole group from my heart, or at least tried.
I said, "Admittedly, I would have answered this question very differently in my youth and my 20's than today."
For now, I am in my Mom Chapter.
As a teenager, all I wanted was to make the Olympic Team, I got closer than most do, but I missed the team.
Then in my 20s, I pursued theater and the arts, fashion and some vanity to an extent. But then became bored with these pursuits. At 25 I was baptized in the Jordan River and that forever set my life on a different path.
I had my son at 35, and so you can figure out that I'm 50 now. Note: I've given up hiding my age because there is nothing I can do about it. I can buy tons of creams but I cannot stop the clock - !
So today I answer that question as this: "My biggest accomplishment is and will always be my son, Ravi, and being his mother."
No gold medal, athletic record or Oscar, or any other accolade would I trade to not be Ravi's mom. And yes, people can win awards and be great parents. I am not saying that they can't. But for me, being a Mom is my biggest accomplishment and always will be. I have a peace about that.
Today let's honor all moms. Let's bring back the joy to Motherhood and the accomplishment that it is. My heart winces when I hear women say, 'Oh, I'm just a stay at home mom". As if that is less than! Why do women apologize for 'just being a mom'?
Let's meditate upon C. S Lewis' belief on motherhood:
"Children are not a distraction from more important work. They are the most important work."
May we embrace the nobility of Motherhood, today and everyday.
Happy Mother's Day.
--Christine N. Smith
May 6 - Mother's Day Special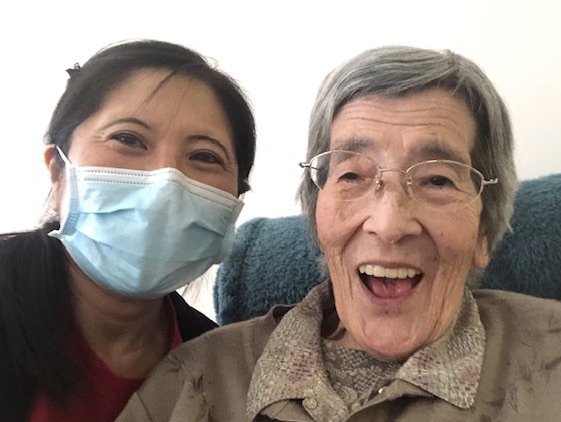 As we think about Mother's Day and what our moms did for us when we were babies, we were totally dependent on them. We could do nothing for ourselves: they fed us, cleaned us, carried us and loved us with tenderness and care. We are here because of them. God created all of us inside our moms and then birthed us into this universe. We relied on our moms every day as little babies, children, and into adulthood if fortunate to have them with us.
But now at the age of 94 my mom depends on others as she has progressive dementia. She no longer can care for herself. She needs me and the care of the nurses at her assisted living facility.
So as grown adults, we must now depend on God and him alone. Whether we realize it or not, everyone of us depend on something: wealth, career, physical strength, family, friends and so on. These are all gifts from God and we should enjoy them and be grateful but not depend on them as they can potentially let us down. We must depend only on Jesus. He is the provider, our savior, our strength and hope. We can rely on his goodness and faithfulness no matter what our circumstances are. He is our fortress, our loving God.
Psalm 59:16-17
But I will sing of your strength,
in the morning I will sing of your love;
for you are my fortress, my refuge in times of trouble.
You are my strength, I sing praise to you;
you, God, are my fortress, my God on whom I can rely.
--Amy Hirata
May 5 - Mother's Day Special
These are couple of quotations that summarize how I feel about being a mother:
"Motherhood is the most exhausting, emotional, rewarding, life-enhancing journey a woman can take"
"Being a mother is learning about strengths you didn't know you had and dealing with fears you never knew existed"
Motherhood is magical yet it is challenging.
Sometimes it's hard, sometimes it'ss fun, sometimes you learn, sometimes you teach. But every day is a Blessing.
No prize, no academic achievement, no title can prevail over the honor of becoming a mother. You become selfless, mature, caring, fierce, and loving.
My daughter is the most precious gift. She is my lifelong best friend. When your child looks at you and smiles it gives you the most amazing joy and reminds me the reason to live.
Motherhood is powerful yet humbling.
As women, God gifted us with the honor of being able to become mothers. It is the highest achievement in life. Nevertheless, it is the most tiring and overwhelming task you'll perform in life. Many days I get frustrated with myself wondering if I am a good mother. But I learned that your child doesn't need a perfect mother, but a happy mother.
I learned to love in a different way, in a better way, in the most perfect way. Agape. The unconditional love God has toward us, His children, you will only understand this after seeing your own child.
Now, what I consider a good day is if I could finish my warm cup of coffee and if I could take a decent shower. That would be considered a successful day!
--Maria Choi Inoue
May 4 - God More Than Just a Father
Isaiah 66: 12-13
For this is what the Lord says:
"I will extend peace to her like a river,
and the wealth of nations like a flooding stream;
you will nurse and be carried on her arm
and dandled on her knees.
As a mother comforts her child,
so will I comfort you;
and you will be comforted over Jerusalem."
God is neither male nor female. God is God. God is above what we can even perceive. What we do know is that we are made in God's image. WE, as in not just males, but females as well. We refer to God as Father, and so does the Bible, but can you for a moment see God as a mother as well? This is actually a hard concept for people to try and see God with more feminine qualities. In the passage above, God says they will be just as a mother to comfort us children.
What does this mean for us? There are certain qualities that are attributed to father figures depending on culture and upbringing. Father's are normally seen as authoritative, disciplinary and providers. What are motherly qualities? Caregiving, gentle, patient, etc. By only seeing God as a father you are really only getting half the picture of God. I challenge you this week as we approach Mother's Day to expand your view of God. Think about motherly figures in your life that you respect and are grateful for. The same attributes in them that you like are also in God!
--Jose Beltran
May 3 - Know His Will
Colossians 1:3-6,9-12
We always thank God, the Father of our Lord Jesus Christ, when we pray for you, because we have heard of your faith in Christ Jesus and of the love you have for all God's people— the faith and love that spring from the hope stored up for you in heaven and about which you have already heard in the true message of the gospel that has come to you.
For this reason, since the day we heard about you, we have not stopped praying for you. We continually ask God to fill you with the knowledge of his will through all the wisdom and understanding that the Spirit gives, so that you may live a life worthy of the Lord and please him in every way: bearing fruit in every good work, growing in the knowledge of God, being strengthened with all power according to his glorious might so that you may have great endurance and patience, and giving joyful thanks to the Father, who has qualified you to share in the inheritance of his holy people in the kingdom of light.
Today we will pray another prayer by the apostle Paul that he prayed for the church of the city of Colossae. Notice what he has heard of them - that their faith is in Jesus the Christ, the Savior, and that they have love for ALL God's people, who believe the same. And those are inseparable from the hope they have heard about - a hope that promises an eternal life free of evil and hurt.
Then the apostle Paul prays that they may have wisdom and understanding through the Holy Spirit to be filled with knowledge of God's will - and that will lead to all good works and power flowing from God to His praise and more fruit - which is more and more people becoming believes in Jesus. Notice this phrase - to fill you with the knowledge of His will. We are not to always stumble around not understanding what and why is happening to us or around us. It is true that there are many things we don't know, but we don't have to be confused about how He directs us to act in a situation, even if we don't understand everything about the situation. And we receive those directions in prayer for wisdom and understanding.
Today, pray verses 9-12 for yourself and expect to hear God's directions clearly. He is faithful to his promises.
--Vessie Kazachka
May 2 - Discern the Good
Philippians 1:3-11
I thank my God every time I remember you. In all my prayers for all of you, I always pray with joy because of your partnership in the gospel from the first day until now, being confident of this, that he who began a good work in you will carry it on to completion until the day of Christ Jesus. It is right for me to feel this way about all of you, since I have you in my heart and, whether I am in chains or defending and confirming the gospel, all of you share in God's grace with me. God can testify how I long for all of you with the affection of Christ Jesus. And this is my prayer: that your love may abound more and more in knowledge and depth of insight, so that you may be able to discern what is best and may be pure and blameless for the day of Christ, filled with the fruit of righteousness that comes through Jesus Christ—to the glory and praise of God.
In this prayer, the apostle Paul prays for the church in Philippi, commending them for sharing the gospel and helping him fulfill his ministry. He knows they have a love for God and the church. He knows God is working powerfully in them. And this is his prayer: in the Young's Literal Translation verses 9 and 10 read like this -- and this I pray, that your love yet more and more may abound in full knowledge, and all judgement, for your proving the things that differ, that ye may be pure and offenseless -- to a day of Christ.
Just like Eve was deceived by Satan, the enemy of God, we can fall prey to his deceit and our good intentions can lead to wrong deeds if we don't learn and practice the Bible and grow slack in our communion with the Lord and His Holy Spirit. One of the main characteristic of a mature believer is knowing how to discern good and evil, and the devil's main trick is presenting evil as good.
Let's pray this prayer for ourselves today. As we grow in knowing hope and love, may we be established in judgment in proving what differs (when evils is presented as good), in discerning what is good and excellent, so that our actions lead to the glory and praise of God.
--Vessie Kazachka
May 1 - Know the Love
Ephesians 3:14-21
For this reason I kneel before the Father, from whom every family in heaven and on earth derives its name. I pray that out of his glorious riches he may strengthen you with power through his Spirit in your inner being, so that Christ may dwell in your hearts through faith. And I pray that you, being rooted and established in love, may have power, together with all the Lord's holy people, to grasp how wide and long and high and deep is the love of Christ, and to know this love that surpasses knowledge—that you may be filled to the measure of all the fullness of God. Now to him who is able to do immeasurably more than all we ask or imagine, according to his power that is at work within us, to him be glory in the church and in Christ Jesus throughout all generations, for ever and ever! Amen.
Yesterday we prayed that our hearts be enlightened to know the hope God has given us - His power working in Jesus to set us as rulers over the world of darkness that we currently live in. Later in the same letter, apostle Paul prays again - this time he prays that the church be developed internally - their heart, their spirit - to comprehend how wide, long, high and deep Jesus' love for us is, that we not only know it mentally, but experientially. He tells us the secret to being like God and Jesus - knowing - experiencing - living His love inside us, being unconditionally good-natured towards God, people, and especially the church.
Today, pray this prayer for yourself. Pray that "God may strengthen ME with power in MY inner being, so that Christ may dwell in MY heart through faith. That I, being rooted and established in love, may have the power to grasp how wide and long and high and deep is the love of Christ, that I may be filled to the measure of all the fullness of God."
--Vessie Kazachka
April 30 - Know the Hope
Ephesians 1:15-23
For this reason, ever since I heard about your faith in the Lord Jesus and your love for all God's people, I have not stopped giving thanks for you, remembering you in my prayers. I keep asking that the God of our Lord Jesus Christ, the glorious Father, may give you the Spirit of wisdom and revelation, so that you may know him better. I pray that the eyes of your heart may be enlightened in order that you may know the hope to which he has called you, the riches of his glorious inheritance in his holy people, and his incomparably great power for us who believe. That power is the same as the mighty strength he exerted when he raised Christ from the dead and seated him at his right hand in the heavenly realms, far above all rule and authority, power and dominion, and every name that is invoked, not only in the present age but also in the one to come. And God placed all things under his feet and appointed him to be head over everything for the church, which is his body, the fullness of him who fills everything in every way.
The apostle Paul is writing to the church of Ephesus and commending them for their faith in Jesus and love towards God and the church. Then he prays for them and the Holy Spirit records the prayer as part of God's eternal word to us in the Bible - because this prayer is an example for us to follow. Notice how he prays - he doesn't ask God to bless us, to empower us, to sanctify us, to heal us. He asks that we receive wisdom and revelation to know Him better. Recently our sermons have been on hope, and here the apostle Paul prays that the church knows God by our heart being enlightened to understand the hope God has given us - that his great power, which raised Jesus and placed Him head over everything in the universe is for the purpose of us, the church.
Today, pray this prayer for yourself, pray that the eyes of YOUR heart be enlightened to know the hope of God. Because once we grasp the love of God towards us and the great power He uses on our behalf, we won't struggle praying for healing, or for financial needs, or for strength, or for good sleep. We will have confidence in Him and receive everything we need, because we know He loves us and His power is for us.
--Vessie Kazachka
April 29 - Sleep in Peace
Psalm 4
Answer me when I call to you,
my righteous God.
Give me relief from my distress;
have mercy on me and hear my prayer.
How long will you people turn my glory into shame?
How long will you love delusions and seek false gods?
Know that the Lord has set apart his faithful servant for himself;
the Lord hears when I call to him.
Tremble and do not sin;
when you are on your beds,
search your hearts and be silent.
Offer the sacrifices of the righteous
and trust in the Lord.
Many, Lord, are asking, "Who will bring us prosperity?"
Let the light of your face shine on us.
Fill my heart with joy
when their grain and new wine abound.
In peace I will lie down and sleep,
for you alone, Lord,
make me dwell in safety.
We have heard the stories of our members having trouble sleeping and maybe even having vivid dreams that interfere with their sleep cycle. The Lord can provide for all our needs and that includes a good night's sleep and safety. The danger is not physical but mental, but it causes physical issues. The terrible sleep and dreams can be spiritual attacks and can be defended and attacked by the Lord. For the rest of the week, and longer, read this Psalm before you sleep. Meditate on the words and read it aloud to God and be sincere. Do not just say the words, but express your emotions. This is your health and body you are talking about and God can and will heal you. Truly pray this Psalm and have confidence that God will let you lie in peace and in safety. Pray against the enemy who may be causing these issues and pray against the dreams that ruin your sleep.
--Jose Beltran
April 28 - The Lord Is My Strength
Today's prayer and meditation verses come from Corrine Kane.
Psalm 28:6-9
Blessed be the Lord because He has heard the voice of my supplication.
The Lord is my strength and my shield; my heart trusts in Him, and I am helped; Therefore my heart exults, and with my song I shall thank Him.
The Lord is their strength, and He is a saving defense to His anointed.
Save Thy people, and bless Thine inheritance;
Be their shepherd also, carry them forever.
April 27 - Know Our God
This is a short video from Rev. Paul Washer, from HeartCry Missionary Society, that was very valuable to me. 0 through 4:55 is for all of us about these troubled times & how we are to "know our God". If we are believers who "know our God" through His Word, we don't need to know exactly what He is doing during this time. We can/are to solely trust Him & it will be that "all things work for good" for us called to His purposes.
The rest is a bit more specific to Rev. Washer's organization and his recommendations for caring for family, pastor/elders, & mission-giving.
--Brian Pikul
April 26 - Thoughts and greetings from Betty Akagi
Hello Everyone,
I miss you all so very much. Wish I could give you all a big hug but it looks like distancing will be observed for a long time. Japanese people politely bow when greeting someone and I think that's how it's going to have to be. I think if one is a "big shot" you have to bow real low. So by the way you bow, we'll know who's the big shots. (Just getting funny)
I miss the Sunday worship a LOT. There's something very special about seeing you in person and worshipping together as a body. It's easy to take this for granted, but being apart makes me appreciate you even more.
I want to thank all the pastoral team for what you are doing to keep the church going. I anxiously wait for that day when we can gather together again and really give shouts of hallelujah and endless praises to God. He has been faithful.
Riki and I trust that you are all doing well. Our daily prayers are with you all. Please take good care, stay well. This separation will soon be over and we'll be together again. I look forward to that day.
I love you all.
Betty Akagi
April 25 - Hope
Romans 8:24-27
We are going through so many complicated and ironic moments right now. Covid-19 totally changed the patterns of our lives upside-down and we all suffer because of the uncertainty, insecurity and limitations by all means. And, of course, we Christians also face huge challenges to our faith that current disaster like situations sometimes force us to lose words in our prayers. Many people are groaning and crying because of losing their beloved ones during this pandemic. Upcoming financial crisis also can cause many families to suffer. The safety of our health is being severely threatened, and the security of an ordinary family's economy can also eventually brake down. We just can't stop asking ourselves and God why this is happening. What can be our true hope? How do we ought to pray?
"For in this hope we were saved. But hope that is seen is no hope at all. Who hopes for what they already have? But if we hope for what we do not yet have, we wait for it patiently." (Romans‬ ‭8:24-25‬ ‭NIV‬‬)
Losing so many visible things leads us to feel like we are hopeless. But as the Bible says, our true hope should not stand on the things which are visible. Seeking the visible things leads us to lose our patience. Seeking greater hope in God's will allows us to stay patient, which means we stick to the invisible yet but overwhelming plan of God.
"In the same way, the Spirit helps us in our weakness. We do not know what we ought to pray for, but the Spirit himself intercedes for us through wordless groans. And he who searches our hearts knows the mind of the Spirit, because the Spirit intercedes for God's people in accordance with the will of God." ‭‭(Romans‬ ‭8:26-27‬ ‭NIV‬‬)
I believe it is the time for us to allow the Spirit to help us in our weakness. It is the time that we should ask the Spirit intercedes for us in our wordless groans. Let us not pray anymore by seeking the visible things according to our own will. Seeking greater hope in God by the guidance of the Spirit only allows us to be freed from all those struggles. I hope we at Union Church can stay hopeful by seeking the greater work of God in this time of troubles.
--Inho Song
April 24 - God Helps Us
Psalm 121
I lift up my eyes to the mountains— where does my help come from? My help comes from the LORD, the Maker of heaven and earth. He will not let your foot slip— he who watches over you will not slumber; indeed, he who watches over Israel will neither slumber nor sleep. The LORD watches over you— the LORD is your shade at your right hand; the sun will not harm you by day, nor the moon by night. The LORD will keep you from all harm— he will watch over your life; the LORD will watch over your coming and going both now and forevermore.
The Lord is our helper! I was thinking this morning about how many circumstances around us we can't control, and how much people's action around us can hurt us sometimes. And how much we don't know what we need to help a situation or to alleviate hurt and pain - ours or others. But I have grown confident over my years as a Christian that there is nothing the Lord can't make better. There's no pain He can't relieve, no situation He can't improve. His help is always there when we fully surrender to him. I honestly don't know how unbelievers live; I can't imagine a life worth living without Jesus, the Holy Spirit, and my Father God - the Maker of heaven and earth, my helper.
--Vessie Kazachka
April 23 - Reflections from Johnny Liu
Pastor Mike preached this past Sunday on resurrection during the pandemic from John 11. Coincidentally, last week I was listening to a worship song that was about Jesus resurrecting Lazarus from the grave. The song is sung from the perspective of Lazarus. I wonder what kind of miracle you need from Jesus. Take heart. He will come; Jesus is a miracle working God. Please take a listen:
April 22 - Pleading the blood
Hebrews 13:20-21
"Now may the God of peace, who through the blood of the eternal covenant brought back from the dead our Lord Jesus, that great Shepherd of the sheep, equip you with everything good for doing his will, and may he work in us what is pleasing to him, through Jesus Christ, to whom be glory for ever and ever. Amen."
I would like to remind us how to pray for protection in these times. The only Bible reason I know that we can be confident that God will answer our prayers is the sacrifice of Jesus. As we celebrated His resurrection, we reaffirmed that we accept His sacrifice for our sins and the redemption He gave us. It was His death and His blood that made a path for God's eternal life to come into us. But in the letter to the Hebrews, the writer explains this new covenant of eternal life by saying that through the blood He also equips us with everything good to do His will.
"To plead the blood of Jesus" is an old phrase that was used often during the Azusa street revival. Like in a courtroom, we plead "the blood of Jesus" as our defense against all evil - sin, sickness, death. And the devil and demonic forces behind sickness and evil will obey God's law; they will draw back from us. Today, and every day, pray for your family, close ones, your home, your city: "Father, I plead the blood of Jesus over me spirit, soul and body, over my spouse, etc ....., and I ask for your protection over me/them, that You keep me/them for the evil one, and deliver me/them from every ungodly work that comes against me/them, that I/they may be equipped with everything good for doing Your will. Amen"
--Vessie Kazachka
April 21- Intercession For Those In Need
1 Timothy 2: 1-5
"I urge, then, first of all, that petitions, prayers, intercession and thanksgiving be made for all people— for kings and all those in authority, that we may live peaceful and quiet lives in all godliness and holiness. This is good, and pleases God our Savior, who wants all people to be saved and to come to a knowledge of the truth. For there is one God and one mediator between God and mankind, the man Christ Jesus, who gave himself as a ransom for all people. This has now been witnessed to at the proper time."
So far in these devotions, we have spent a lot of time praying for ourselves and developing our own faith. Let us not forget about others and let us not forget about those who are truly suffering while we are secluded at home. Today's devotion is simple- Let us pray for those in intensive care and those suffering with the Corona virus. It is easy for us to feel bored and fatigued while we have been home, but there are thousands of people who are fighting for their lives right now. Pray to God for the recovery of those in intensive care. Be specific when you pray! Pray for an increase in antibodies production in the body. Pray for their fevers to kill the virus infection in them. Or pray for supernatural healings for these people. Pray more than once today for these people. Your prayer and intercession work! Can you give up some of your time to fight on their behalf?
--Jose Beltran
April 20 - Small Things with Great Love
"Not of all of us can do great things but we can do small things with great love." - Mother Teresa
These are unprecedented times. The current pandemic has paralyzed almost every industry around us with the exception of grocery stores, trucks and delivery companies, and healthcare to name a few.
With 9/11, many could still volunteer hands-on and our churches were a refuge to many. It was traumatic, but most of the country was not confined to their homes.
Today with most of us in quarantine and social distancing, we may feel we can't do much or do enough during times such as these. A couple weeks ago, several quotes came to mind.
Many of Mother Teresa's quotes align with our Lord's teachings and the word of God. Small things coincide with "Faith as small as a mustard seed". By the way, have you ever seen a mustard seed and how tiny it is? (Matthew 17:20). Or the 7 loaves and 2 fish blessed to feed a vast multitude (Matthew 15: 36)?
Jesus was constantly impressing upon his disciples and the world, that it's not about numerical amounts, power, seemingly important titles, it was about intent, the heart, the motivation of the giver behind the gift. Think the widow with the mite. Today, the principles remain the same.
Most of us aren't the celebrity that can write that million dollar check or the tech executive who easily donates 25 million to research to advance a vaccine more quickly.
We are inclined to ask ourselves: Do we count? Could our mere day to day 'small' things and deeds even make a difference? Jesus says yes, they do. He makes the 'insignificant significant', the small become big. We just need to obey and let Him do the rest.
Several times during this 'safer at home' the Lord has given me specific instructions, and thankfully I obeyed. I won't list them all as when we declare our good deeds, that's the reward. I'd rather do most things anonymously. But here are a few:
1) Put a bag of food, water, and boxed small milks (in non-perishable form) in a reusable bag on a bus bench. I did just that, and in 30 minutes it was gone! The reusable bag is water-proof which is helpful.
2) A few times we've ordered food in. The Lord put it on my heart to give these delivery people a $20 tip. Most of these people are doing this as a 2nd job, and to see their face light up when you say, "Here's some extra gas money and God bless you during this time" is so meaningful. They were so grateful. Again, $20 not 20 million.
3) Ask neighbors and others at home what you pick up for them at the store. Place these items by the their door with an encouraging note. It will mean so much.
These are not million dollar donations, they will never get recognized publicly or beyond the hour when they occur. But God sees them. And IF we truly believe our Lord, nothing is wasted in His plan.
Small acts of kindness. Small seeds. And more than likely, any big rewards will be revealed in Heaven. People are touched by small things more than we think. Small gestures are often more intimate. In all our flaws, all we need to do is listen and obey. Even in times like these.
-Christine Nor Smith, April 2020
April 19 - Hope
Hope does not depend on our mood, our disposition, and our desire. Hope does not wait until we are ready for it, until we have prepared ourselves for its arrival. It does not hold itself apart from us until we have worked through the worst of our sorrow, our anger, and our fear. This is precisely where hope seeks us out, standing with us in the midst of what most weighs us down.
Hope has work for us to do. It asks us to resist going numb when the world within us or beyond us is falling apart. In the height of despair, in the deepest darkness, hope calls us to open our hearts, our eyes, and our hands, that we might engage the world when it breaks our hearts. Hope goes with us, step by step, offering to us the manna it holds.
--Chuck Hashbarger, from his cousin Lesley
April 18 - His Eye Is On The Sparrow
My balcony has now become my "outdoors" for fresh air. It helps me feel connected to the rest of the world. The street scene, the cars, pedestrians and noise below me, give me hope of every day of life that is still around me.
From my balcony I see the trees. Many times the sparrows sit upon my branch. Although their colors are not bright and they are camouflaged with the color of the trees, I can see them clearly. During this time of anxiety and worry, my spirit is lifted by the visit of these little sparrows. I am comforted because I know God's eye is on the sparrow…and I know He watches me. I pray this hymn grants us all peace.
Why should I feel discouraged, Why should the shadows come,
Why would my heart be lonely, And long for heaven and home,
When Jesus is my portion, my constant friend is He;
His eye is on the sparrow, and I know He watches me.
Let not your heart be troubled, His tender word I hear,
And resting on His goodness I lose my doubt and fears;
Though by the path He leadeth but one step I may see;
Hs eye is on the sparrow, and I know he watches me.
Whenever I am tempted, whenever clouds arise,
When songs give place to sighing when hope within me dies,
I draw the closer to Him, from care He sets me free;
Hs eye is on the sparrow, and I know He cares for me.
Luke 12:6
Are not five sparrows sold for two copper coins? And not one of them is forgotten before God.
Matthew 10:29-31
Are not two sparrows sold for a penny? Yet not one of them will fall to the ground apart from the will of the Father. And even the very hairs of your head are all numbered. So don't be afraid; you are worth more than many sparrows.
Matthew 6:26-27
Look at the birds of the air; they do not sow or reap or store away I barns, and yet your heavenly Father feeds them. Are you not much more valuable than they? Who of you by worrying can add a single hour to his life.
--Suzanne Hammond
April 17 - Know My Heart
Psalm 139: 17-24
"How precious to me are your thoughts, God!
How vast is the sum of them!
Were I to count them,
they would outnumber the grains of sand—
when I awake, I am still with you.
If only you, God, would slay the wicked!
Away from me, you who are bloodthirsty!
They speak of you with evil intent;
your adversaries misuse your name.
Do I not hate those who hate you, Lord,
and abhor those who are in rebellion against you?
I have nothing but hatred for them;
I count them my enemies.
Search me, God, and know my heart;
test me and know my anxious thoughts.
See if there is any offensive way in me,
and lead me in the way everlasting."
Do you have the same trust in God? David her is exclaiming how much he thinks about God and the reverence he has in him. What is more interesting is that the end he asks God to look in his heart and look for anything in him that might be against God.
During your stay at home, how much of your thoughts are attributed to God? Some people are essential workers and continue to work a full time set of hours, but in general we all have more free time at home. It seems so simple, with more free time then we should have more time for God, but have we? I can tell you that personally, some of these days I can look back and think that I could have done more for God, but instead watched TV or did something else. I want to tell God personally that I have all my thoughts towards him, but I know what he will find when he searches my heart.
Let us be proactive today. Let us investigate our own hearts first and see the offensive ways in our own lives. Where are we lacking in thought for God and where may we be devoting our times that should be going to God? Let us let him lead us to the way of the everlasting.
--Jose Beltran
April 16 - Beloved of God
Letter to the church in Rome
Paul, a servant of Jesus Christ, called to be an apostle and set apart for the gospel of God, which He promised beforehand through His prophets in the Holy Scriptures, concerning His Son, Jesus Christ our Lord, who was born of the seed of David according to the flesh and declared to be the Son of God with power by the resurrection from the dead. To all who are in Rome, beloved of God, called to be saints:
What, then, shall we say in response to these things? If God is for us, who can be against us? He who did not spare his own Son, but gave him up for us all—how will he not also, along with him, graciously give us all things? Who will bring any charge against those whom God has chosen? It is God who justifies. Who then is the one who condemns? No one. Christ Jesus who died—more than that, who was raised to life—is at the right hand of God and is also interceding for us. Who shall separate us from the love of Christ? Shall trouble or hardship or persecution or famine or nakedness or danger or sword? As it is written: "For your sake we face death all day long; we are considered as sheep to be slaughtered." No, in all these things we are more than conquerors through him who loved us. For I am convinced that neither death nor life, neither angels nor demons, neither the present nor the future, nor any powers, neither height nor depth, nor anything else in all creation, will be able to separate us from the love of God that is in Christ Jesus our Lord.
--Paul the Apostle
April 15 - Redeeming the Time
Ephesians 5:15-17
"See then that you walk carefully, not as fools, but as wise men, redeeming (making the most of) the time because the days are evil. Therefore do not be unwise, but understand what the will of the Lord is."
At first I didn't think the stay home lock down would last long, but once I realized it will be awhile, I was grateful for the time at home. I got a lot of organizing done, and cleaning, but more importantly I allowed myself free thought space to listen to the Lord. I had been feeling pressured by reality lately, and wanting to accomplish too many things at once.
Thankfully with the Holy Spirit's help, I didn't panic, I didn't fear, and I wasn't shocked. I had a stuffed fridge and all living necessities, and I followed the Lord's prompting from the scriptures to turn inward and redefine the priorities in my life. I asked for direction for my future. And I learned again how to listen to the Lord through His word and in my heart.
There are many things in the circumstances around us that we can't control, but the Lord has given us power to control ourselves and our reaction to those circumstances. And He has given us His wisdom for the future in the face of the Holy Spirit inside our hearts.
It was so nice seeing everyone on Easter during our zoom easter service. Glad everyone is doing well. As we continue to stay home, I encourage you to redeem the time - ask the Lord for His direction or simply rejoice in His goodness in keeping us safe, and worship Him. The days may be evil, but nothing can separate us from the Love of God in Christ for us.
--Vessie Kazachka
April 14 - Rest
Psalm 91
Whoever dwells in the shelter of the Most High
will rest in the shadow of the Almighty.
I will say of the Lord, "He is my refuge and my fortress,
my God, in whom I trust."
Surely he will save you
from the fowler's snare
and from the deadly pestilence.
He will cover you with his feathers,
and under his wings you will find refuge;
his faithfulness will be your shield and rampart.
You will not fear the terror of night,
nor the arrow that flies by day,
nor the pestilence that stalks in the darkness,
nor the plague that destroys at midday.
A thousand may fall at your side,
ten thousand at your right hand,
but it will not come near you.
You will only observe with your eyes
and see the punishment of the wicked.
If you say, "The Lord is my refuge,"
and you make the Most High your dwelling,
no harm will overtake you,
no disaster will come near your tent.
For he will command his angels concerning you
to guard you in all your ways;
they will lift you up in their hands,
so that you will not strike your foot against a stone.
You will tread on the lion and the cobra;
you will trample the great lion and the serpent.
"Because he loves me," says the Lord, "I will rescue him;
I will protect him, for he acknowledges my name.
He will call on me, and I will answer him;
I will be with him in trouble,
I will deliver him and honor him.
With long life I will satisfy him
and show him my salvation."
Read this psalm at least two times today. Read these verses first and then sit in silence for 10 minutes. Use today to rest. You may think that you have been resting more in social distancing, but that is physical rest. Use this time for spiritual rest. Let go of all distractions and meditate on this scripture. Let God rejuvenate you with energy today.
The Lenten Series
April 13 - Lenten Message from Dan Taguchi
Greetings! I hope everyone is doing well.
I did not grow up in a churchgoing family. Still, "Lent" was a time when we gave up something we enjoyed for a month or so...eating chocolate...watching television...listening to The Beatles (OK...not that...).
This year, thanks to the Coronavirus, choices were made for me. Just like that, I gave up coaching, adjudicating, performing and listening to live music, traveling, watching sports (live and broadcast), and visiting family and friends...things I chose to do more of in retirement.
Recently, I viewed a post on social media that went something like this: "No movies? No concerts? No sporting events? No restaurants? No social gatherings? Limited workload? Now that I've cleared your schedule, can we talk now? – God". I admit there have been days when I would only pray over meals. Nowadays, I find I have been praying much more...for safety and good health, and that I won't get on my family's nerves while we are hunkering down.
I find subtle reminders of God's presence in my life. I spent much of the last three weeks cleaning the house. In doing so, I found a lot of stuff I have not seen in a while...memorabilia from my teaching career...mementos from our early years of marriage and parenthood...books, photos, and notes from the last twenty-three years at Union Church...precious memories from a blessed life which I am still living!
Observing "Safer at Home" has been at time a challenge and at times a gift. CSUN has gone to online classes, and symphony rehearsals have been suspended, so Jin is home for the duration of the semester. Listening to Jin practice is payback for the instruments, music, and lessons we have paid for over the years. Lily is an "essential" worker four days a week. We pray for her health and the health of her co-workers and clients at the clinic.
Because the gym is closed, my exercise routine changed. I now walk one-and-a-half miles to my Mom's house and back every morning, and Lily and I walk our dog ("Dodger") around the block every night. The quiet of the early mornings and the sky in the late evenings remind me of days when we would push a stroller instead of pulling a leash. What a blessing!
Keep the faith. Remember we are not alone. God be with us. Thanks for listening.
--Dan Taguchi
April 12 - He Has Risen!
Mathew 28: 1-10
After the Sabbath, at dawn on the first day of the week, Mary Magdalene and the other Mary went to look at the tomb. There was a violent earthquake, for an angel of the Lord came down from heaven and, going to the tomb, rolled back the stone and sat on it. His appearance was like lightning, and his clothes were white as snow. The guards were so afraid of him that they shook and became like dead men.
The angel said to the women, "Do not be afraid, for I know that you are looking for Jesus, who was crucified. He is not here; he has risen, just as he said. Come and see the place where he lay. Then go quickly and tell his disciples: 'He has risen from the dead and is going ahead of you into Galilee. There you will see him.' Now I have told you."
So the women hurried away from the tomb, afraid yet filled with joy, and ran to tell his disciples. Suddenly Jesus met them. "Greetings," he said. They came to him, clasped his feet and worshiped him. Then Jesus said to them, "Do not be afraid. Go and tell my brothers to go to Galilee; there they will see me."
We did it! We made it to Easter. Hopefully we never experience another Easter like this, secluded to our homes. During this Lent time, hopefully you have grown deeper in faith or have developed new practices for yourself.
What are the first words that Jesus says after his resurrection? "Do not be afraid" and he refers to his disciples as "Brothers" for the first time. The same men who betrayed him and left him. The same men who denied him multiple times. The same men who doubted him. He tells the woman to go find his brothers and to go to Galilee. This simple interaction is how Jesus responds to us when we sin and betray him. He still calls us sisters and brother and he is telling us not be afraid.
So what does Jesus tell his brothers in Galilee?
Mathew 28: 18-20
"All authority in heaven and on earth has been given to me. Therefore go and make disciples of all nations, baptizing them in the name of the Father and of the Son and of the Holy Spirit, and teaching them to obey everything I have commanded you. And surely I am with you always, to the very end of the age."
This is the Great Commission, and it is our commission. Lent is a time of fasting and prayer to prepare our hearts for the return of Jesus. Well….. your hearts have been prepared so now it is time for work. Lent is over and Jesus makes it clear what our mission is. So, what will you do about it, especially in these tough times? Use today to make contact with someone (through social distancing of course) and tell them about Jesus. You can tell them about your Lent or better yet, you can ask them if they need any prayer. So many people are alone during these tough times, and they just need to know that someone cares, and that Jesus cares even more! Go!
April 11- Silence
Mathew 27: 57-61
As evening approached, there came a rich man from Arimathea, named Joseph, who had himself become a disciple of Jesus. Going to Pilate, he asked for Jesus' body, and Pilate ordered that it be given to him. Joseph took the body, wrapped it in a clean linen cloth, and placed it in his own new tomb that he had cut out of the rock. He rolled a big stone in front of the entrance to the tomb and went away. 61 Mary Magdalene and the other Mary were sitting there opposite the tomb.
Yesterday Jesus was crucified and tomorrow we know he will be resurrected, but what is in the in-between? …… Silence.
His disciples had some doubt and I am sure many questions. They were told plenty of times that Jesus said he had to die and that he would rise again, but what if he does not? This is the ultimate test for the disciples. Are they to believe that Jesus will truly conquer death? They had seen him bring other people back from the dead, but how does one who is already dead bring himself back? This is the ultimate action of faith for the disciples. In the wake of not having their teacher, they must decide either to leave and go back to their lives, or to continue to have faith that Jesus will return.
In times of troubles and hardships, we may experience that silence. In that silence we have to make the decision to go back, or to continue to have faith. The truth is, that we may not receive the answers first and will have to wait for the miracle or for God to work before we get our answers. You may cry out to God and to others, and the responses may be …. silence.
We know from scripture from that after the resurrection when the disciples went to see Jesus, that some still doubted. It is ok to have doubts and questions. Having faith is not easy, it actually might go against everything the world is telling you. What are you still waiting in silence for? Where have you possibly given up after waiting so long in silence or without an answer? Can you put aside the need for answers today, meditate and continue to have faith even in the face of doubt? It is in the face of silence that our faith is really put to the test.
--Jose Beltran
April 10 - The Betrayal
Mathew 26:20-22
When evening came, Jesus was reclining at the table with the Twelve. And while they were eating, he said, "Truly I tell you, one of you will betray me."
They were very sad and began to say to him one after the other, "Surely you don't mean me, Lord?"
On the night that Jesus was betrayed, he again uttered his fate to his disciples saying that he would be betrayed and killed, but this time he added more. He told them that one of his closest disciples, one of his followers, was the one who would begin everything. One of them would betray his trust, his provision and would hand him over for gold. The disciples responded honestly, and in question. What they were each thinking was "Could it be me? Would I be the one to do it?" They were all confused and maybe even for a bit wondered if they would be the culprit. Though Judas is the one who betrayed him for the gold, when Jesus was taken away all his disciples betrayed him by running away or by publicly stating they had no affiliation with him. As Jesus began his torture and when his disciples should have been supporting him the most, they were gone. The truth of that night is that Jesus was not speaking to one disciple, but to all.
We can read the accounts of what happened and say that we could have done better and wanted to do better, but the truth is, if we were in the disciples' shoes, we would have done the same thing. How do I know? Because we betray Jesus daily in our current comfortable lives. How many times have we chosen an idol over Jesus? How many times have we submitted ourselves to our sins? How many times have we chosen not to acknowledge Jesus himself to others? At the table, Jesus is saying that we will all betray him and your response is "Surely you don't mean me, Lord?"
Today is called Good Friday, it is the day that Jesus is crucified. He was crucified not on the betrayal of Judas, but the betrayal of all of us. He died on the cross so all OUR sins can be forgiven. He died for the people of the past, the present and the future. Use today to prepare your hearts for the upcoming Easter. Where have you betrayed Jesus willingly and can you ask for forgiveness? What are the sins in your life that have strangle hold on your life? Today is a day to remember why Jesus sacrificed himself for us.
Mathew 26:31-32
Then Jesus told them, "This very night you will all fall away on account of me, for it is written:
"'I will strike the shepherd,
and the sheep of the flock will be scattered.'
But after I have risen, I will go ahead of you into Galilee."
--Jose Beltran
April 9 - Reflections on Washing Feet
John 13:15
"I have set you an example that you should do as I have done for you."
Washing feet was one of the last things that Jesus did for his disciples. And he told them, "Now that I, your Lord and Teacher, have washed your feet, you also should wash one another's feet. I have set you an example that you should do as I have done for you."
I had often wondered about the significance of washing feet. And I told God, "Okay, I know that this is about more than just doing a dirty job that no one else wants to do. And I think it's more than just doing the lowliest job." And so I read through it again and this is what I found:
"Jesus knew that the time had come for Him to leave this world and go to the Father. Having loved His own who were in the world, he now showed them the full extent of his love."
I imagine the disciples preparing the Passover meal. I wonder if that old argument was playing in their hearts. Which one is the greatest? Who will sit next to Jesus tonight?
And what does Jesus do?
"Jesus knew that the Father had put all things under his power, and that he had come from God and was returning to God;" ...
And with this power, Jesus does what? ...
"so he got up from the meal, took off his outer clothing, and wrapped a towel around his
waist...and began to wash his disciples' feet..." He knelt down and washed Judas's feet.
I imagine him looking into the faces of the men that He loved. The face of the man who would betray Him, the face of the man who would deny Him, the face of each man who would turn away from Him and run, even run away naked to avoid the greater shame of being associated with Him.
I think about how dirty that towel must have gotten. Wearing the filth from all the places the disciples had been that day. He took his hands and massaged away all the dust, mud, waste, that the disciples had trod through.
And what was revealed underneath all of that dirt? The feet that God had created on each one of them. The feet that God had made to go into Jerusalem and Judea and Samaria, and all the earth making disciples. The feet that were made to go places and do things that glorified God.
This is one of the last things that Jesus told his disciples...wash each other's feet.
Here's what I think it means: Seek to draw out of each other the good that God created, and in the process the dirt will be revealed and washed away.
Let us not get caught up in the ancient debate of who is the greatest follower of Christ? Who reads their Bible the most? Prays the longest? Whose doctrine is the purest? What worship is the
truest? Who has brought the most people to Christ? Who has suffered the most? Witnessed the most? Sinned the least? All leading up to the big question: Who does God love the most?
Perhaps, we really don't know God that well. Maybe when we get down on our knees in front of the tax collector, who has extorted us, the zealot, who annoys us, the one who always thinks he is right, the doubter, the worrier, and the one we know will betray us...and wash their feet.
If we make a habit of saying to these our brothers: You are worth my life and I love you. Then we begin to know God's love.
"I have set you an example that you should do as I have done for you." John 13:15
--Alicia Leblanc
April 8 - What do we receive by this New Covenant? -- Part 8 We Become Partakers of the Glory of God the Father
Romans 5:1-2
Therefore, since we have been made right in God's sight by faith, we have peace with God because of what Jesus Christ our Lord has done for us. Because of our faith, Christ has brought us into this place of highest privilege where we now stand, and we confidently and joyfully look forward to sharing God's glory.
2 Corinthians 3:18
And all of us have had that veil removed so that we can be mirrors that brightly reflect the glory of the Lord. And as the Spirit of the Lord works within us, we become more and more like him and reflect his glory even more.
Colossians 1:27
For it has pleased God to tell his people that the riches and glory of Christ are for you Gentiles, too. For this is the secret: Christ lives in you, and this is your assurance that you will share in his glory.
When Jesus, the incarnate son of God, was raised from the dead – we, those that believe Him, get not only access to heaven, not only spiritual life, not only our emotional, physical, and material needs met, but we get God's own glory – His presence and goodness resting in and on us for all eternity for the whole world to see. We become His own children, just like Jesus, in His own image and nature. It is the greatest honor in the universe. Let's celebrate Him. He is risen!
--Vessie Kazachka
April 7 - What Happened on the Cross? -- Part 7 We Received Financial Prosperity for Every Good Work
Matthew 6:31-33 NLT
"So don't worry about these things, saying, 'What will we eat? What will we drink? What will we wear?' These things dominate the thoughts of unbelievers, but your heavenly Father already knows all your needs. Seek the Kingdom of God above all else, and live righteously, and he will give you everything you need.
Luke 22:35 NLT
Then Jesus asked them, "When I sent you out to preach the Good News and you did not have money, a traveler's bag, or an extra pair of sandals, did you need anything?" "No," they replied.
Phil 4:19 NLT
And this same God who takes care of me will supply all your needs from his glorious riches, which have been given to us in Christ Jesus.
2 Cor 9:8 NLT
And God will generously provide all you need. Then you will always have everything you need and plenty left over to share with others.
In the new covenant, God has provided for everything that we need to live successfully for His Kingdom. That includes financial and material possessions. We are called to not love and desire possessions, but to build His Kingdom and be generous to those in need, and He will provide for all that we need. The flip side of this is – if we find ourselves with financial and material need that are not satisfied, the question arises: "Are we doing His will? Are we doing our part of the covenant according to His instructions?
--Vessie Kazachka
April 6 - What Happened on the Cross? -- Part 6 We Received Healing of Our Mind and Body
In Isaiah chapter 53, the prophet sees in the spirit and describes the future sacrifice of Jesus, what happens in the spirit, and what it means for us.
Isaiah 53:4-5 Amplified
Surely He has borne our griefs (sicknesses, weaknesses, and distresses) and carried our sorrows and pain [of punishment], yet we [ignorantly] considered Him stricken, smitten, and afflicted by God. But He was wounded for our transgressions, He was bruised for our guilt and iniquities; the chastisement [needful to obtain] peace and well-being for us was upon Him, and with the stripes [that wounded] Him we are healed and made whole.
Isaiah 53:5 NTL
But he was wounded and crushed for our sins. He was beaten that we might have peace. He was whipped, and we were healed!
Matthew 8:16-17 NLT
That evening many demon-possessed people were brought to Jesus. All the spirits fled when he commanded them to leave; and he healed all the sick. This fulfilled the word of the Lord through Isaiah, who said, "He took our sicknesses and removed our diseases."
Jesus's sacrifice includes not only the death on the cross, but the beating and mockery prior to it. Through His suffering, not only our spirit was bought back from the punishment of sin, but also our mind, emotions, and our physical bodies. In this New Covenant, God has made provision for our whole being – spirit, soul, and body – to be healed, healthy and functioning well in His service. When we suffer from sicknesses and distresses, physical or mental, the question isn't "if God will heal us", that already happened on the cross. The question is "What is preventing God's healing power to flow to me and manifest in my life."
--Vessie Kazachka
April 5 - What Happened on the Cross? -- Part 5 We Received Authority over the Power of Darkness
Luke 10:18-19
And Jesus said unto them, "I saw Satan falling from heaven as a flash of lightning! And I have given you authority over all the power of the enemy, and you can walk among snakes and scorpions and crush them. Nothing will injure you.
Hebrews 2:14-15
Because God's children are human beings – made of flesh and blood – Jesus also became flesh and blood by being born in human form. For only as a human being could he die and only by dying could he break the power of the Devil, who had the power of death. Only in this way could he deliver those who have lived all their lives as slaves to the fear of dying.
Ephesians 6:10-11, 13
A final word: Be strong with the Lord's mighty power. Put on all of God's armor so that you will be able to stand firm against all strategies and tricks of the Devil. Use every piece of God's armor to resist the enemy in the time of evil, so that after the battle you will still be standing firm.
Ever since the Adam and Eve's sin, humans have been trapped by Satan in fear – of death, of sickness, of harm, of poverty, of depression. When Jesus was raised from the dead, He took the power of Satan – the keys of death and hell – and now those who believe in Jesus have the freedom and authority of live free from evil oppression and have the power to overcome every battle with evil – depression, sickness, lack, - that comes their way. In this New Covenant, Jesus's own power and authority is given to us to use in our life daily
--Vessie Kazachka
April 4 - What Happened on the Cross? -- Part 4 We Received Divine Nature
I Peter 2:5, 9.
And now God is building you, as living stones, into His spiritual temple. What's more, you are God's holy priests, who offer the spiritual sacrifices that please Him because of Jesus Christ. For you are a chosen people. You are a kingdom of priests, God's holy nation, His very own possession. This is so you can show others the goodness of God, for He called you out of darkness into his marvelous light.
II Peter 1:3-4
As we know Jesus better, His divine power gives us everything we need for living a godly life. He has called us to receive His own glory and goodness! And by that same mighty power, He has given us all of His rich and wonderful promises. He has promised that you will escape the decadence all around you caused by evil desires and that you will share in His divine nature.
I John 3:2
Yes, dear friends, we are already God's children, and we can't even imagine what we will be like when Christ returns. But we do know that when He comes we will be like Him, for we will see Him as He really is.
When we believe Jesus is raised from the dead and accept Him as our Lord, God puts His own nature into us – we become His children, same as Him. We must reach daily to know Jesus better. As we know Him, and His promises and desires for us, the Holy Spirit works in us to give us God's desires and His love, and then God's goodness flows into our lives and becomes an example for others around us.
--Vessie Kazachka
April 3 - What Happened on the Cross? -- Part 3 We Received Eternal Life
I Peter 1:18-19, 23
For you know that God paid a ransom to save you from the empty life you inherited from your ancestors. And the ransom He paid was not mere gold or silver. He paid for you with the precious lifeblood of Christ, the sinless, spotless Lamb of God. For you have been born again. Your new life did not come from your earthly parents, because the life they gave you will end in death. But this new life will last forever because it comes from the eternal living word of God.
Everyone who believes Jesus is raised from death is born again. The dead spirit inside us is re-created by God. We are now an eternal living spirit. Our body is getting older and will one day die and be buried or cremated. But we – our spirit, the real us – will not die, but ascend to God into the heavens in the dimension of the spirit.
--Vessie Kazachka
April 2 - What Happened on the Cross? -- Part 2 We Received Freedom from Sin
Hebrews 8:8-10, 11
But God Himself found fault with the old [covenant] when He said: [in Ezekiel 31:31-34] "The day will come, says the Lord, when I will make a new covenant with the people of Israel and Judah. This covenant will not be like the one I made with their ancestors when I took them by the hand and led them out of the land of Egypt. They did not remain faithful to my covenant, so I turned my back on them, says the Lord. But this is the new covenant I will make with the people of Israel on that day, says the Lord: I will put my laws in their minds so they will understand them, and I will write them on their hearts so they will obey them. I will be their God, and they will be My people. And they will not need to teach their neighbors, nor will they need to each their family, saying, 'You should know the Lord.' For everyone, from the least to the greatest, will already know me. And I will forgive their wrongdoings, and I will never again remember their sins."
Hebrews 9:14-15
For by the power of the eternal Spirit, Christ offered Himself to God as a perfect sacrifice for our sins. That is why he is the one who mediates the new covenant between God and people, so that all who are invited can receive the eternal inheritance God has promised them. For Christ dies to set them free from the penalty of the sins they had committed under that first covenant.
On Easter we celebrate the resurrection of Jesus Christ from the dead – the act that established the new and better covenant between God and human beings. Today instead of having to obey rules and laws in order to receive blessing from God, we surrender our life to Jesus in faith that He took our sins upon Himself in His death, and now we are no longer guilty of wrongdoing. And because we are innocent with Jesus's innocence, we are free to receive God's blessing and peace.
--Vessie Kazachka
April 1 - What Happened On the Cross? -- Part 1 What Is a Covenant
Heb 8:6-9
But now [Jesus] has obtained a more excellent ministry, because He is the mediator of a better covenant, which was established on better promises. For if that first covenant had been faultless, then no occasion would have been sought for a second. For finding fault with them, God says: "Surely the days are coming, says the Lord, when I will make a new covenant with the house of Israel and with the house of Judah, not according to the covenant that I made with their fathers in the day when I took them by the hand to lead them out of the land of Egypt; because they did not continue in My covenant, and I rejected them, says the Lord."
A covenant is a legal agreement between two or more parties, a promise of action. The old covenant was made between God and His people Israel – if they kept His commandments, God's protection and Blessing would rest upon them. Because of our human sinful nature, the Israelites could not keep their part of the covenant. Yet God had a plan to create a faultless covenant – and this is the New covenant Jesus executed. Today's new covenant is an unbreakable covenant, because it is between God the Father and Jesus, the Son. In Him we receive God's protection and Blessing – better promises like the writer of the letter to the Hebrews says. Let's learn, practice and celebrate those better promises!
--Vessie Kazachka
March 31 - Be Still and Listen
Psalm 46:10
"Be still, and know that I am God!
I am exalted among the nations,
I am exalted in the earth."
Today's devotion is an audio reflection by Michael Stafford. Click below to listen.
March 30 - Jesus Speaks, Listen!
Mark 10:32-34
Again, He took the twelve aside and began to tell them what would happen to Him, saying, "Listen! We are going up to Jerusalem. The Son of Man will be handed over to the chief priests and the scribes, and they will condemn Him to death and hand Him over to the Gentiles. They will mock Him, and scourge Him, and spit on Him, and kill Him. Then after three days He will rise."
Our God has always shown the future and shared His plan with His people and prophets. When Jesus was on the earth, He too spoke plainly with His disciples about what was to come - about His death and resurrection and about what was going to happen to the disciples. Today Jesus is seated at the right hand of the Father God in heaven, but we have the Holy Spirit living inside us to teach us and guide us. Let's take time daily to quiet our mind and ask Him to speak to us about His plan and our lives - and have confidence that He is faithful and will do it. He will tell us of things to come, guide us in our decisions in uncertain times, and help us to finish our course as disciples of Jesus.
I grew up in the 1980s in Bulgaria, a small socialist/communist country at the time. I grew up atheist and didn't hear about the God of the Bible until my teens. When I saw in the Bible the most accurate description of the reality I lived in and saw the goodness of God, I decided to follow Jesus and became a believer. I also realized a very important thing - many things I had been taught before then were false. Since then, I have looked to the Bible to understand the reality I live in, and I've always found information there about any area of life where I needed knowledge - the voice of the Holy Spirit inside opens the words of the Bible to me and guides me in every situation.
Listen to Jesus and the Holy Spirit today. If you don't know how, just ask Him to teach you and you will come across the information you need. Be confident in Him - He knows the future and so should we.
--Vessie Kazachka
March 29 - Easter Letter from Rev. Shiraiwa
Once again, we are about to celebrate our risen Lord!
Somebody says, "The bodily resurrection of Jesus Christ from the dead is the crowning proof of Christianity. If the resurrection did not take place, then Christianity is a false religion. If it did take place, then Christ is God, and the Christian faith is the absolute truth." ( I Cor. 15:19-20)
While so many might only see colored eggs or bunnies, we know it goes so much deeper than that. This particular day is like no other. We are experiencing and celebrating His resurrection power in our daily lives. Let us give thanks to our risen Lord!
May grace and peace of the living Christ be with you all abundantly in this season.
--Rev. Shiraiwa
March 28 - Losing Your Life
Luke 9:21-27
Jesus strictly warned them not to tell this to anyone. And he said, "The Son of Man must suffer many things and be rejected by the elders, the chief priests and the teachers of the law, and he must be killed and on the third day be raised to life."
Then he said to them all: "Whoever wants to be my disciple must deny themselves and take up their cross daily and follow me. For whoever wants to save their life will lose it, but whoever loses their life for me will save it. What good is it for someone to gain the whole world, and yet lose or forfeit their very self? Whoever is ashamed of me and my words, the Son of Man will be ashamed of them when he comes in his glory and in the glory of the Father and of the holy angels.
"Truly I tell you, some who are standing here will not taste death before they see the kingdom of God."
Right after Jesus asked his disciples "Who do you say I am?", Jesus says these words before he goes up to the mountain to be transfigured. Peter responded to his previous question by saying that Jesus is God's Messiah. Jesus then tells him that the Messiah is to be rejected, persecuted and then ultimately killed….and then he adds that we are to follow him. Let me repeat that, he is going to be rejected and killed and he is telling his disciples that they must follow him.
Jesus clearly lays down the requirements for being a disciple: (1) Deny yourself daily, (2) take up your cross daily, (3) follow him. Jesus says that we must deny ourselves of our urges and sins, be willing to take up the burdens of sacrificing and suffering for Jesus, and ultimately to follow his commands and words. Jesus makes it very clear that it is not easy to be a disciple, but the rewards are clear. If we lose our lives, we will save our lives with Jesus.
In this Lent season, we are waiting for the crucifixion of Jesus, but also his resurrection. Though Jesus asks us to follow him into this death, he is also asking for us to follow him in his resurrection. Have you lost your life? Are you even willing to lose your life? Use today to mediate and reflect on your life and actions. Reflect on the 3 criteria that Jesus laid out and ask yourself how you can grow in those areas.
--Jose Beltran
March 27 - Who Do You Say I am?
Luke 9: 18-20
Once when Jesus was praying in private and his disciples were with him, he asked them, "Who do the crowds say I am?"
They replied, "Some say John the Baptist; others say Elijah; and still others, that one of the prophets of long ago has come back to life."
"But what about you?" he asked. "Who do you say I am?"
Peter answered, "God's Messiah."
It is a simple question that Jesus asks, "Who do you say I am?". He already knew what others said about him, and Jesus does not care what they think. He asked his disciples, the people who followed him, lived with him and learned from him what they thought of him. Imagine Jesus asking you what others say about him, and then he asks you "Who do you say I am?". Are both your answers the same?
I think what Jesus is asking his disciples (and to an extension us) is "What do you really think about me?" For some, the answer is a simple "You are my savior", but for others it may be complicated. You might answer "Well, I know you are supposed to be a healer, but you did not heal my mother from her illness". You might answer "I know you are supposed to be a provider, yet I am struggling with finances". Your answer can also be "I am not sure who you are".
Our relationship with Jesus is not a one-time event, but a journey we take with Jesus along with others. It is a walk of faith and growth where we must give some of our time to Jesus to allow ourselves to grow. If Jesus had asked the question to his disciples after their first encounter, do you think that Peter would have answered the same way? They experienced his presence and his teachings to the point where Peter can be confident in his answer (and yet they will all betray him still and later will have doubts in their beliefs when Jesus dies).
Take some time alone and image Jesus asking you "Who do you say I am?". In your alone time, be sincere in your answers. What are the things that you absolutely believe about Jesus and what are the things that you want to believe about Jesus? Be real with yourself and Jesus so that he may grow you in faith in the areas where you feel lacking. Do not be afraid to reach out to someone else if you would like to process your thoughts and if you need prayer.
--Jose Beltran
March 26 - Selah
Selah...a Hebrew word that can be found in the old testament. In English, it means to "take a pause." This word stuck out in a book I thought I would try to finish, but it made me think about what it means in light of what we are all experiencing. The world has come to a pause so that we can all do our part to slow the spread of COVID-19.
Have you taken a time of Selah, to rest, reflect, or give thanks? With technology, entertainment, and our daily responsibilities, every minute of our days seems to be filled with a task or an activity. I know this very well in my own life. I am often working long hours, social outings any chance I get, attending and serving at church, planning my next trip, and often leaving little time for chores or personal time. So with sports, concerts, and life events being postponed, worship services being encouraged online, social outings and travel plans on paused, I am now given this time of Selah. We are all given a time of Selah.
There is good in everything, we just need to take the time to see it. I encourage you to take a Selah, rest from all the busyness, reflect on God's goodness, pray, and give thanks.
We do not know what tomorrow brings, but we can rest in the Lord, for He is
Good.
My thoughts based on reading the book When Changing Nothing Changes Everything, by Laurie Polich Short.
--Anna Chau
March 25 - Christ Our Living Bread
‭‭John‬ ‭6:51
"I am the living bread that came down from heaven. If anyone eats of this bread, he will live forever."
‬ ‭‬‬
Jesus tells us he is our living bread -- our sustainer, provider, nourisher, and the source of our strength, energy, vitality and eternal salvation.
It's so easy to react to uncertainty by stocking up and emptying store shelves. During times of plenty, it is tempting to rely on ourselves. But despite our station in life or circumstances, the truth is, we are ALL in need of God and always have been. I am reminded today that Christ alone can satisfy my hunger and that my utter dependence on him is continuous and eternal.
Christ taught us to pray for our daily bread. He cannot be stockpiled. We must seek him every day. At the same time, he promises to always be there for us. Just as the Israelites wandering in the desert could not save up the manna for the next day, we too must trust that God's grace is sufficient for us today and that he will faithfully provide for us tomorrow.
Take comfort in the LORD, our living bread.
--Dan Hilley
March 24 - Pastoral Prayer from Rev. Ann Hayman
From a distance the world looks blue and green
And the snowcapped mountains white
From a distance the ocean meets the stream
And the eagle takes to flight*
Holy One, during this time of social distancing and sheltering in place due to the COVID-19 pandemic, remind us that we are still connected to one another. We pray for those impacted by travel bans, those unable to connect with loved ones, those who have insurance, those who do not, those who are getting treatment, and all those who cannot get a hospital bed. God of all, to you we pray. . .
We pray for all of us, who are anxious and afraid. Remind us that we are infinitely connected to you, and we can come to you in prayer at any time, in any setting. And we pray for those who think this is all a hoax, or those who for what ever reason just think this is a big joke. God of all, to you we pray. . .
From a distance there is harmony
And it echoes through the land
It's the voice of hope
It's the voice of peace
It's the voice of every soul
Help us to be the Body of Christ that you call us to be in this moment. May we be your hands and feet right now, in neighborhoods, farms and small towns, hospitals and clinics, tribes and large cities as we work to safely feed each other, heal each other, look out for each other, and act as your instruments in this ailing world. Be with the very young, the school-age children as they watch this world around them.
Guide the healers on each continent, in each country, in each city around the globe, and be with them and each of us as we struggle to navigate new things in new ways. Sustain the researchers, virologists, laboratories and medical transport teams. God of all, to you we pray. . .
From a distance we all have enough
And no one is in need
And there are no guns, no bombs and no disease
No hungry mouths to feed
All economies around the world have been terribly affected over these past months. We pray for each of the ways it is impacting the small business owners, investors, our elderly, our homeless, the middle class, all of us in vastly varied ways. May we rebuild together without rank of who is worthiest, but, instead, guided by your light and filled with your love, stronger than we can imagine. God of all, to you we pray. . .
From a distance we are instruments
Marching in a common band
Playing songs of hope
Playing songs of peace
They are the songs of every soul
May we hear your songs of hope ringing from the balconies of Italy. May we hear your songs of a common band like the Lummi Nation in the US Pacific Northwest as they have planned for months to protect their members. May we hear your songs of peace in the "caremongers" of Canada who out of kindness, not fear, have created online groups searching out need (#iso) and/or providing help (#offer). May we know that these are the songs of all of us, your beloved children. God of all, to you we pray. . .
God is watching us
God is watching us
God is watching us from a distance
May God watch over us, and may we watch over one another, from a distance.
Amen.
--Ann Hayman
*Excerpts taken from From a Distance (Written by Julie Gold, sung by Bette Midler)
Source: World News this Week in Prayer
March 23 - So Lent and COVID-19, huh?
So Lent and COVID-19, huh? I mean, this is crazy! I wonder are you as blown away as I am? Perhaps this is just the way of things. If it's not war, it's AIDS, or SARS or H1N1… Life can certainly turn on a dime. It's really challenging to be grateful these days, though I am extremely grateful that Michael Flatley is not doing a worldwide tour of the remake of The Lord of the Dance!
COVID-19 is impacting the entire planet. It is predominating my heart and thoughts, and I wish I didn't have to think about it 24/7 or as a friend of mine calls it 7/24. But I want to be safe and healthy. I want my wife and our son to be safe and healthy. I even want my doggie to be so as well. It is in times like these that we can ask questions about God, church, Christian life, and ministry. Are you asking questions like, "what does it mean to be the church during this health crisis?", "How do I minister when I am supposed to stay away from people?", "Is God going to save me, save us, save our Church?", "Is it ok if I am truly terrified?" I mean, I imagine that we all have plenty of questions right now. One thing is for certain, we are not certain about much these days. So, how about this: go on and eat your chocolate and drink your coffee and for lent we give it up! Give up certainty.
As I am asking my own questions and navigating the anxiety in my own heart, it does occur to me that this is the exact time to be the church. Perhaps, and again I am only throwing this out there, we are most likely Salt and Light during times like these.
During times when things seem overwhelming and (let's just be "pull no punches" honest here) it is scary to reach out, to walk across the hallway to that neighbor with the kids, or to walk across the street, or just be open to help… I mean, shouldn't we simply take care of El Numero Uno, Ichi-gō, Nanbāwan, my 3 amigos – me, myself, and I? But to be Christian means we are called to remember what God has done and step out in love.
I spoke with a lady at the grocery about hoarding. She said that she just wanted to have a little extra for herself. It feels like we are living in DefCon 2… and DefCon 1 seems imminent. But it is not how we should live. As King David wrote, "even though I walk through the valley of the shadow of death, You are with me…" We are Christian and we are called to the way of LOVE.
Let's remember what Jesus endured during his great passion. It seems to me that Jesus understands what it feels like to deal with isolation, social distancing, and COVID-19. Though these are uncertain times, the way of this challenging and uncertain journey leads to Easter and new life.
--Michael Stafford
March 22 - Grateful for God's Love
Romans 8:38-39
"For I am convinced that neither death, not life, nor angels, nor principalities, not things present, not things to come, not powers, not height, nor depth, nor any other created thing, will be able to separate us from the love of God, which is in Christ Jesus our Lord."
This Lenten season I wrote a haiku poem about God's love. Haiku is a form of poetry, first made popular in Japan, which has become appreciated around the world. Haiku poets are challenged to convey a vivid message in only 17 syllables. In Japan these poems are valued for their simplicity, openness, depth and lightness. They have specific rules – to use exactly 17 syllables arranged in three lines of 5-7-5, to avoid similes and metaphors, and to refer to a season of the year.
Haiku poems can describe anything, but are seldom complicated or hard to understand. Almost all Haiku has a dominant impression, or main idea, that appeals strongly to one of the five senses.
Here is my Lenten haiku poem:
IN LENTEN SEASON
QUIETLY SIPPING MY TEA
GRATEFUL FOR GOD'S LOVE!
--Cathy Masamitsu
March 21 - Prepare a Way for the Lord
Isaiah 40 3-5
A voice of one calling:
"In the wilderness prepare
the way for the Lord;
make straight in the desert
a highway for our God
Every valley shall be raised up,
every mountain and hill made low;
the rough ground shall become level,
the rugged places a plain.
And the glory of the Lord will be revealed,
and all people will see it together.
For the mouth of the Lord has spoken."
During lent, we wait for the coming of the Lord on Easter when we celebrate Jesus' victory of death. For many, though, Lent is just a waiting period and something you do every year. Lent is meant to be a period to prepare ourselves spiritually for what Jesus has already done in our lives. The passage above is the prophecy of John the Baptist, the one who prepares the way for Jesus, and who will come from the wilderness and proclaim the ministry of what is to come.
God does not say that people will make straight the path, he says that these immovable objects like the deserts, hills and plains will level themselves and open for God. We cannot stop what God already has planned. When God speaks, nature will move, and we will see his glory. Things do look sad out there and with churches having to close buildings and there is worry of what this means for the Church, but do not worry. God will move what needs to be moved so that all people will see his glory!
What are the deserts, valleys and hills in your life that you can straighten to make a path for the Lord? Too often we try to hide from God, or we have something in our life that is not allowing us to see God clearly. Today, use your time in reflective prayer. Ask for forgiveness if it is a specific sin that is holding you back. Ask for help if there may be an idol deterring your attention from God. Ask for discernment if you are unsure what is in the way. God does not hide from us, it is us who hide from God. For many, this will involve healing and possibly some time. Do not be afraid or worry if this is a continued prayer that you must do. Prepare your hearts for the coming glory of the Lord.
--Jose Beltran
March 20 - Reflecting on the COVID-19 Crisis
Sometimes we seem to forget that Jesus included "pestilences" along with earthquakes and famines in his prediction of future events. He said all those things will occur but the end is not yet. He goes on to say that we are not to fear but to "stand firm and gain life" when those events take place (Luke 21:11-19). How can we stand firm at a time like this?
Pastor Mike shared in his message last Sunday that we are currently in a fierce storm. Many of us feel emotionally battered and spiritually challenged due to the unknown nature of the virus and by witnessing the wide-spread panic reactions among people. How can we stand firm in a storm like this?
Psalm 46:10 comes to my mind, which declares, "Be still and know I am God." I have a busy schedule but during my free-time I am learning to meditate on Psalm 46:10 and to listen to the "still small voice" of the Lord in deep silence. Otherwise, it would be very easy for me to engage in my own negative speculations of what might happen as a result of the virus. This way I am protected from slipping into a state of fear and hopelessness.
I have heard that oak trees put their roots deep in the ground when they are battered by fierce storms. Mighty oak trees stand tall because they have been challenged by raging storms that tried to knock them down. Is there a lesson for me to learn here in terms of standing firm and gaining life?
By learning to be still in the awareness of God's presence, I can go deeper in my relationship with the Lord. He is the Creator of the universe which is full of mysteries which my mind cannot completely fathom but He assures me that I can trust Him because He is in charge.
Currently, my daily life consists of doing what I need to do (while working full-time) with the added activities of learning to wash my hands properly, trying to disinfect my office and to maintain social distance as much as possible.
I am also carefully watching the daily statistical reports on how the virus is behaving. In China where the virus was first discovered, new cases have been steadily declining over the past several days, while the number of cases continues to rise in the rest of the world, including the US. It looks as if China has been successful in containing the spread of the virus, which means other nations can do likewise. I have been told that spread of viral infections follows the pattern of the inverted U shape and China is beginning to come down from the peak while the other nations are still climbing up. We need to continue to practice what the government is asking us to do without yielding to the temptation of falling into fear or despair, while fully trusting in the sovereignty of the Lord who knows all things.
-- Ken Yabuki
March 19 - Do Not Worry
Philippians 4:1, 4, 6-9
"Therefore, my beloved brothers, my joy and crown, so stand fast in the Lord, my beloved. Rejoice in the Lord always. Again I will say, rejoice. Be anxious for nothing, but in everything, by prayer and supplication with gratitude, make your requests known to God. And the peace of God, which surpasses all understanding, will protect your hears and thoughts through Christ Jesus. Finally, brothers, whatever things are true, whatever things are honest, whatever things are just, whatever things are pure, whatever things are lovely, whatever things are of good report, if there is any virtue, and if there is any praise, think on these things. Do those things which you have both learned and received and heard and seen in me, and the God of peace will be with you."
Faith in God is not just a mental state, or a tradition. Faith in Jesus and God the Father is a reality that can change our thoughts and emotions. In uncertain and dangerous times, the apostle Paul teaches us to be firm in the Lord and protect our joy in Him. He instructs us not to dwell on bad news, but to submit them immediately to the Father in prayer. Paul tells us that God promises that His peace, which comes by the Holy Spirit, will keep our hearts and our thoughts if we reject any oppressive thoughts, fear and worry, and instead think of lovely, good and praiseworthy things. We are bombarded with bad news, scientific and sometimes less scientific reports, and with predictions from all kinds of organizations and people. But as Christians, we should remind ourselves that only our God knows the future, and He is able to protect us from any disaster because He loves us. Let's practice the goodness of God towards others, remain generous and kind, and keep our thoughts focused on good and positive things. Thinking the bad news over and over again brings no relief, but reminding ourselves that the Lord is our salvation keeps our spirit refreshed and full of joy.
Rejoice in the Lord!
--Vessie Kazachka
March 18 - How Do We Pray Alone?
Matthew 14:19-24
"Then he ordered the crowds to sit down on the grass, and taking the five loaves and the two fish, he looked up to heaven and said a blessing (...) And those who ate were about five thousand men, besides women and children. Immediately he made the disciples get into the boat and go before him to the other side, while he dismissed the crowds. And after he had dismissed the crowds, he went up on the mountain by himself to pray. When evening came, he was there alone, but the boat by this time was a long way from the land, beaten by the waves, for the wind was against them."
Now what? I think we are all asking that question. As we get more reports of what the CDC recommends, then what is coming down from the President's office, we are being forced more and more into shelter at our homes. Some of us may be sheltered with families, but there are many who are sheltered alone. We are not worshipping together or having bible studies together or even taking communion together. We are all alone, separated from one another. Many people are starting to realize that they may have relied too much on Sunday church for their growth, which is good, but they are beginning to realize that maybe they do not have an in-depth one-on-one relationship with God. Do you have a daily reading of scripture? Do you even pray alone daily? These are not meant to persecute you but to open your eyes. Without Church, how do you worship God alone?
You will have plenty of time to hopefully develop some new healthy routines and maybe even discover new ways that you worship God. Let us begin with the basic though; how do we pray alone? After feeding the five thousand, Jesus chose to go up the mountain on his own and he prayed till the sun came down. Jesus did not pray for a minute, he most likely prayed for hours amid a storm coming in. Can we do the same as Jesus did? Can we remove ourselves from our work, others and from distractions to find a place alone even with a storm coming in and just give God quality time? There is no one single method to pray or even specific words, but there is a specific posture to have. Can you open your heart to God, speak to him and allow him to speak to you? Are you willing to go past 5 minutes of prayer? Are you willing to mediate in the silence? You do not need to pray for hours, unless you feel led. What I am asking for is for you to be open and allow the prayer time to take as long as you think it needs. Turn off the TV and silence your cell phone. You can also read during your prayer or even journal. There is no structure, just give God your time, which I think we all have plenty of more now.
--Jose Beltran
March 17 - Seek Him First
Matthew 6:31-34
Therefore, take no thought, saying, "What shall we eat?" or "What shall we drink?" or "What shall we wear?" (For the Gentiles seek after all these things.) But seek first the kingdom of God and His Righteousness, and all these things shall be given to you. Therefore, take no thought about tomorrow, for tomorrow will take thought about the things of itself. Sufficient to the day is the trouble thereof.
Currently our community is impacted by the threat of the fast-spreading coronavirus COVID-19. But even before these events transpired, I was considering the concept of the Sabbath – a period (a day, a year) of rest. In the Old Testament, God asked His people to not work a full day every week and one full year out of every seven. It dawned on me what work is – it's providing things for myself. In those days, work consisted mostly of agriculture and raising animals for food, of building homes and making household items – all things necessary for daily life, things that take lots of time and effort. Yet the Lord promised them: give Me the Sabbath - spend time with Me, sing and dance before me, and I will make sure you are supplied with everything necessary for a happy and satisfied life.
Jesus confirms this promise in the New Testament in the Sermon on the Mount. He tells us not to spend all our time seeking things for ourselves, but to dedicate our energy to His purposes, to seek His kingdom, and to rest and trust in Him, that He will supply all our daily necessities and protect us from an uncertain tomorrow.
In times of distress, we are to resist fear and panic and to submit all our needs and concerns to Him because He is faithful to give us a life that's abundant and overflowing with all good things. In His presence is fullness of joy – this is what Jesus got for us on the cross. As we prepare for this Easter celebration, let us remember the covenant of life we have in Jesus – He is faithful in that promise!
-- Vessie Kazachka