Hi Ladies,
Fall is here!
This year's Ladies Harvest Tea, held virtually via Zoom on Saturday, October 23rd @11:00 am, will be based around Redeeming Love For Yourself. Initially, going into the pandemic in 2020, the idea of "self-care" came into play where we were encouraged to use quarantine as a time to tackle taking care of ourselves as we tend to forget to do even during the pre-pandemic days.
As we were planning the theme for this event, we felt it was important to continue with the self-care practice even in 2021 but to delve even deeper. We want to represent all aspects of taking care of oneself; physically, creatively, and mentally/spiritually. This being said, we plan to have some simple exercise demonstrations, a craft presentation, and a speaker who will shine more light on how we can renew the love we have for ourselves as women.
For those who have attended past teas, we have had our annual Ladies Harvest Tea on the first Saturday of October for the past 10 years, but this time around we thought changing it up would be the best in order to plan the best quality virtual tea.
Thank you all for your understanding and flexibility. I hope you are able to attend once again!
Let's make this a Virtual Tea Party to remember!
● Consider inviting a few friends to join
● Set out your favorite teapot and fancy teacups or fun mugs
● Brew a favorite cup of a tea
● Try a new tea sandwich or scone recipe
● Wear a fun, crazy, or elegant hat or headpiece
● Turn your video camera on so we can connect with each other
● Links provided below for more fun tea party ideas
There is no formal registration to participate. So, save the date, invite your girlfriends and enjoy an afternoon of tea with us! Look below for instructions on how to join us on that day. Please visit www.unionchurchla.org/tea for more information or email us at achau@unionchurchla.org.
--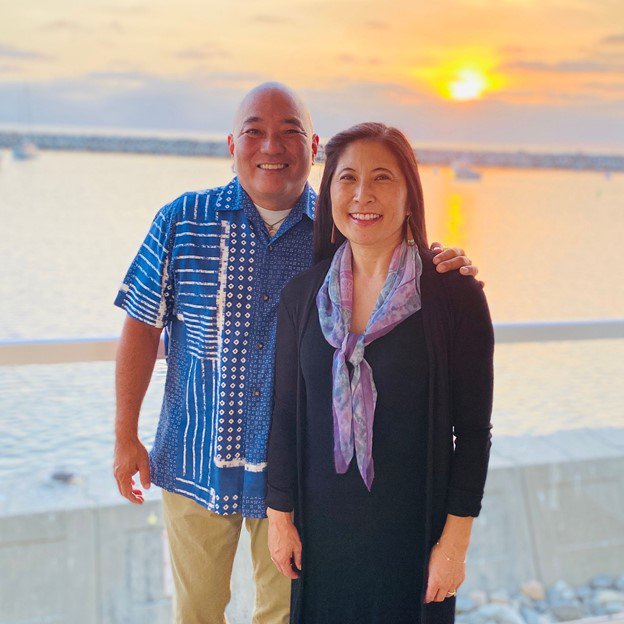 Our Speaker: Amy Hirata
Amy Hirata (most people don't know but Amy is her middle name and Carolyn is her first name) was born in Los Angeles, California. The youngest of 3 daughters; grew up going to Los Angeles Holiness Church and became a Christian at JEMS Mount Hermon junior high camp in 1980. Amy graduated from Schurr High School in Montebello and graduated with a BS in Physical Therapy in 1990 from California State University of Long Beach.
After getting married to Keith Hirata in September 1990, they moved to Chicago, Illinois where Keith is from. Because of Keith's calling to ministry with InterVarsity Christian Fellowship, they moved to Madison, Wisconsin in 1997. Amy moved back to Los Angeles with her family in 2016 to work for USC Verdugo Hills Hospital where she is currently the Inpatient Rehab Manager for the Physical Medicine and Rehab Department.
Amy and Keith have attended Union Church of Los Angeles since January of 2019 and resides in Rosemead, CA with their two adult children: Kyra 23 years old and Kaeden 21 years old.
Amy enjoys spending time with family and friends, eating out at restaurants especially Japanese, going for walks and taking photos of flowers along the way, seeing rainbows, pretty clouds and sunsets, spending quiet times with Jesus at home or favorite spot in Malibu, CA and travelling whenever possible.
Apricot Buttermilk Scones
Served at Union Church LA Ladies Harvest Tea Since 2010
Prep Time: 30 minutes | Cook Time: 15 minutes | Make 10-12 scones
3 cups all-purpose flour
1/3 cup sugar
1 teaspoon salt
2 ½ teaspoons baking powder
½ teaspoon baking soda
¾ cup (1 ½ sticks) unsalted butter, cold
1 cup buttermilk
½ cup chopped dried apricots
2 tablespoons heavy cream or an egg wash (for brushing scone tops prior to baking)
Directions:
-Preheat oven to 400°F.
-In a large bowl, combine the flour, sugar, salt, baking powder and baking soda.
-Add butter and mix with a pastry cutter, 2 forks, or with our fingertips to a coarse meal. A food processor works, but it often overworks the scone dough.
-Toss in the dried apricots
-Add buttermilk and mix just until combined. Do not over-mix! Scone dough will be slightly loose and crumbly, but will bake up buttery and tender if you do not over-mix.
-Form into a disc and cut into wedges or transfer the dough to a floured board and press out gently, roll to about 1-inch thickness. Cut with a 2-inch biscuit-cutter, lifting with a spatula to place on a lightly greased (or parchment-paper-lined) baking sheet.
-Brush the tops with heavy cream or egg wash. Bake for 15 minutes, or until lightly browned. Serve warm, split in half with butter, clotted cream, lemon curd and/or jams or marmalade.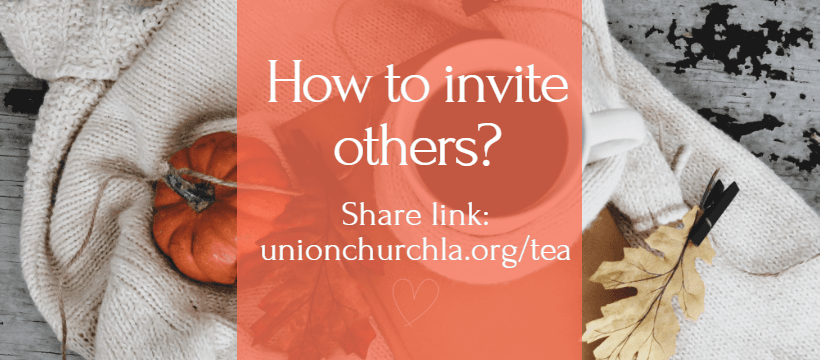 Instructions on how to join our Virtual Ladies Harvest Tea
Join us a few minutes before 11 am to ensure that all your technology is working before the program starts. When the program begins, please mute your audio during the tea time program. Don't worry, though; we will have an opportunity to interact later in the tea time!
How to join by Computer or Smartphone
First, you will need to download Zoom on your PC, laptop, tablet, or smartphone if you haven't already. On your PC/laptop, go to zoom.us/download. On your smartphone, download the Zoom app from the Apple Store or Google Play.
After you have downloaded the app, you may join the service by clicking on this link. If it asks for a Meeting ID enter: 908 151 7932, Password, 501.
How to join by Phone
If you do not have access to a computer or smartphone, you may still listen in by dialing: +1 669 900 6833. If it asks for a Meeting ID enter: 908 151 7932, Password, 501.